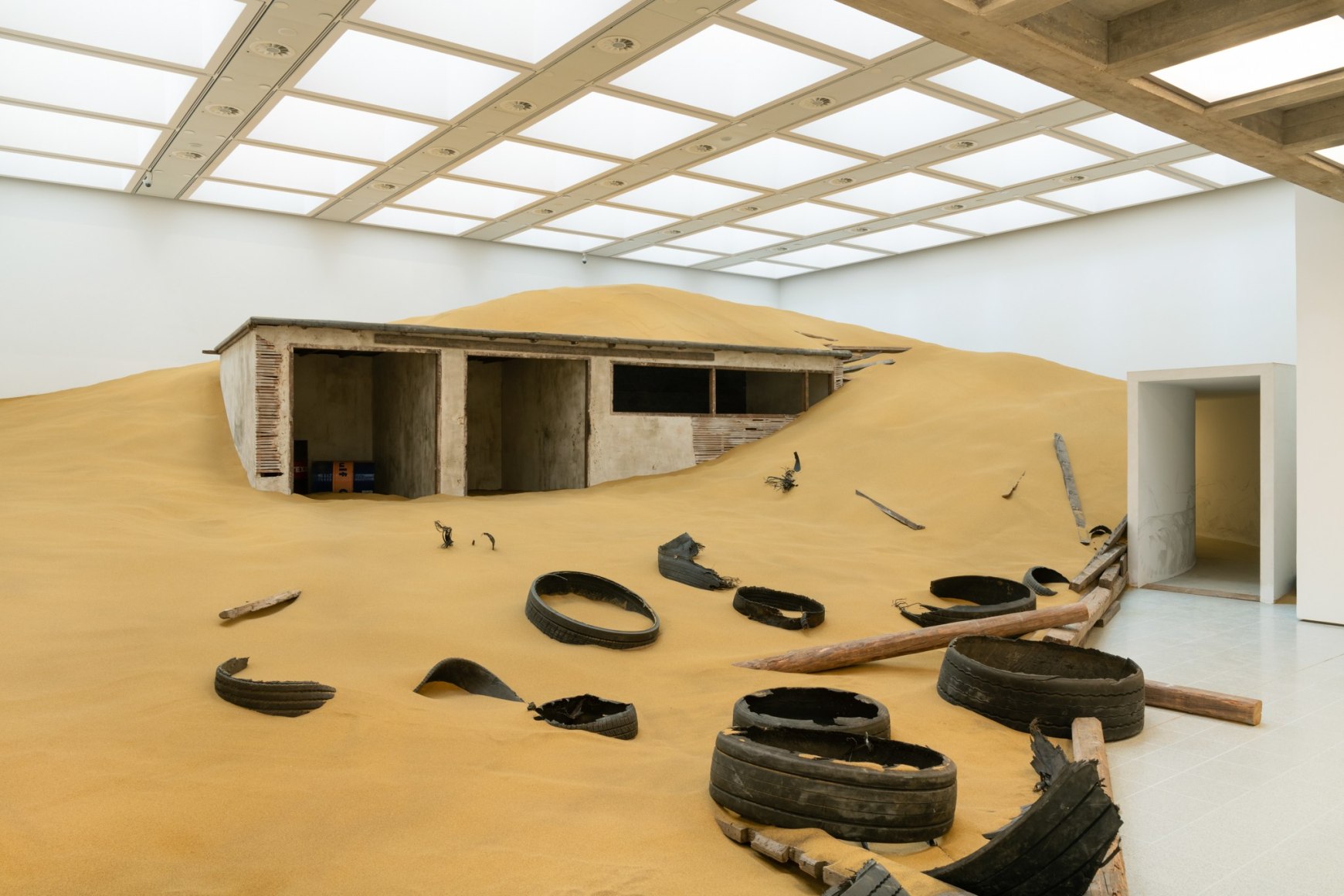 Installation view of Mike Nelson, Triple Bluff Canyon (the woodshed), 2004. Various materials. M25, 2023.
Found tyres. Photo: Matt Greenwood. Courtesy the artist and the Hayward Gallery.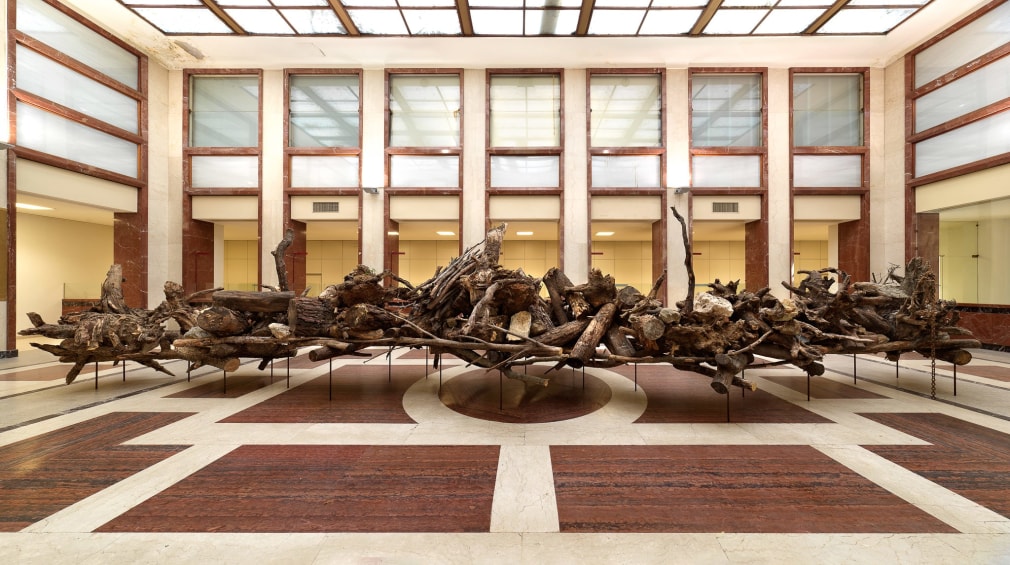 Installation view: Mike Nelson, The House of the Farmer, Palazzo Dell'Agricoltore, Parma, 2021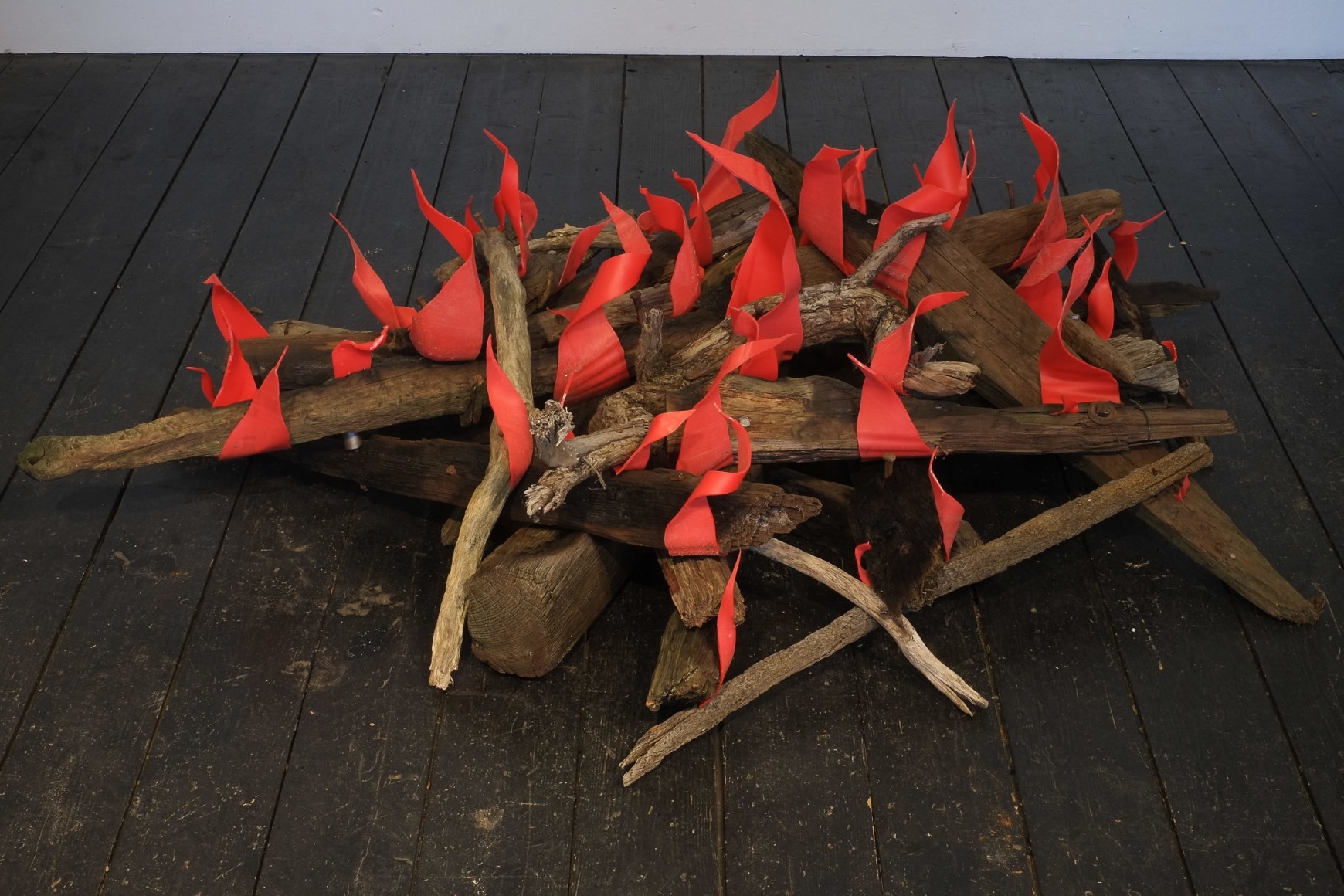 Mike Nelson
Amnesiac Beach Fire (MoD)
2021
Found wood, found plastic, nuts, bolts, screws, nails
18 x 63 x 63 inches (45.7 x 160 x 160 cm)
MN 188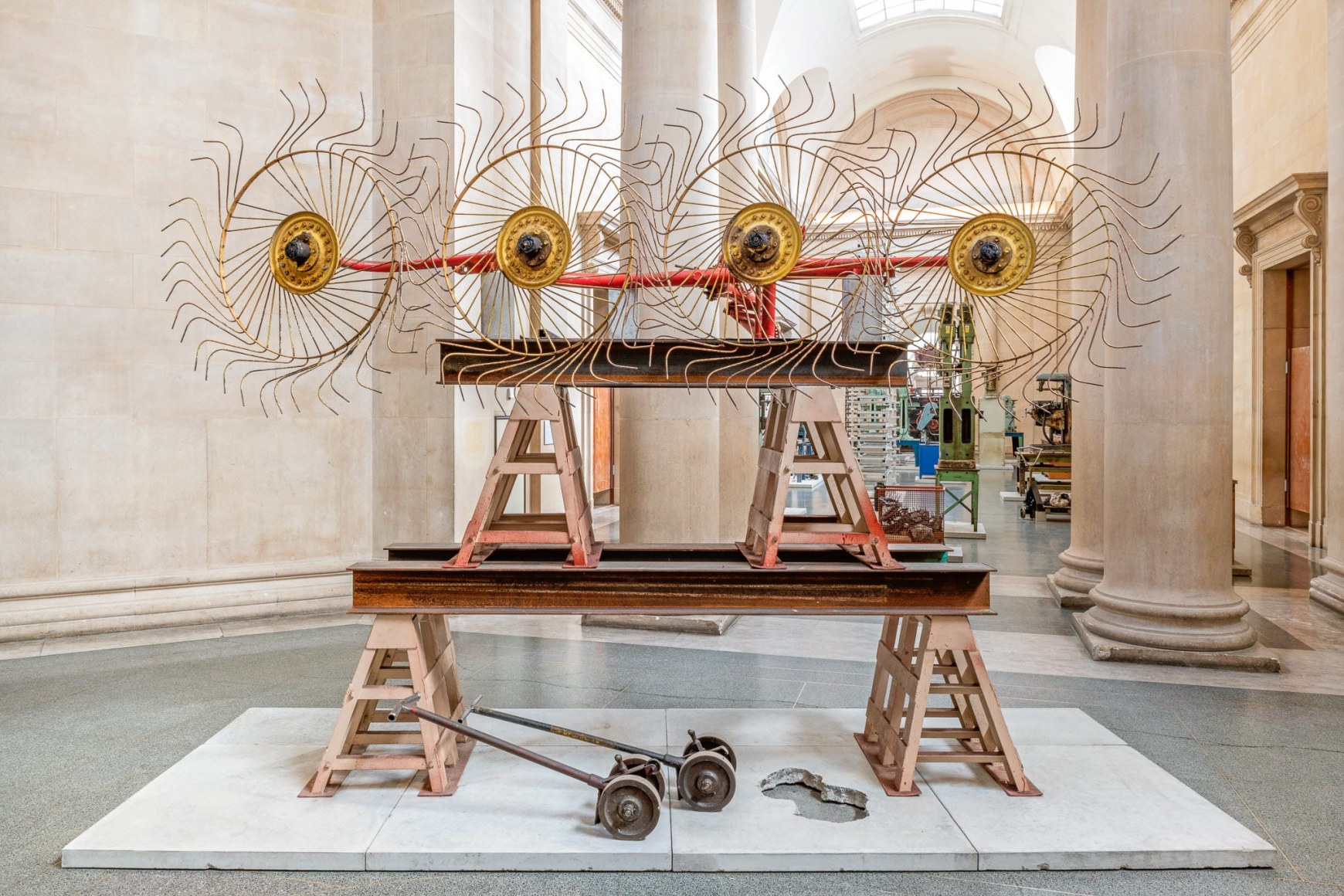 Installation view of The Asset Strippers at Tate Britain, 2019. © Tate (Matt Greenwood)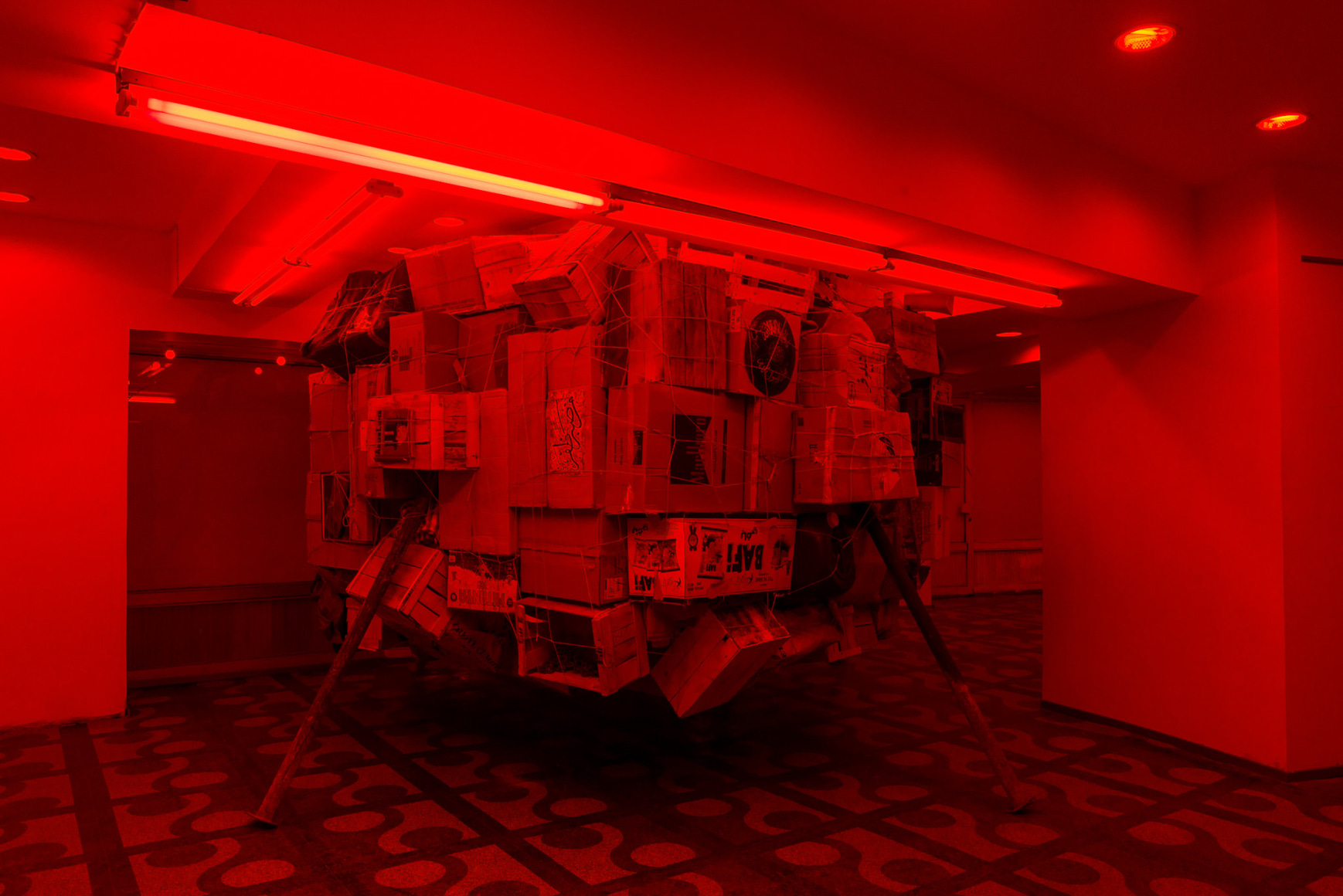 Mike Nelson, PROJEKTÖR (Gürün Han), 2019, commissioned and presented by Protocinema, Istanbul with support Henry Moore Foundation; Alserkal Arts Foundation; Galleria Franco Noero.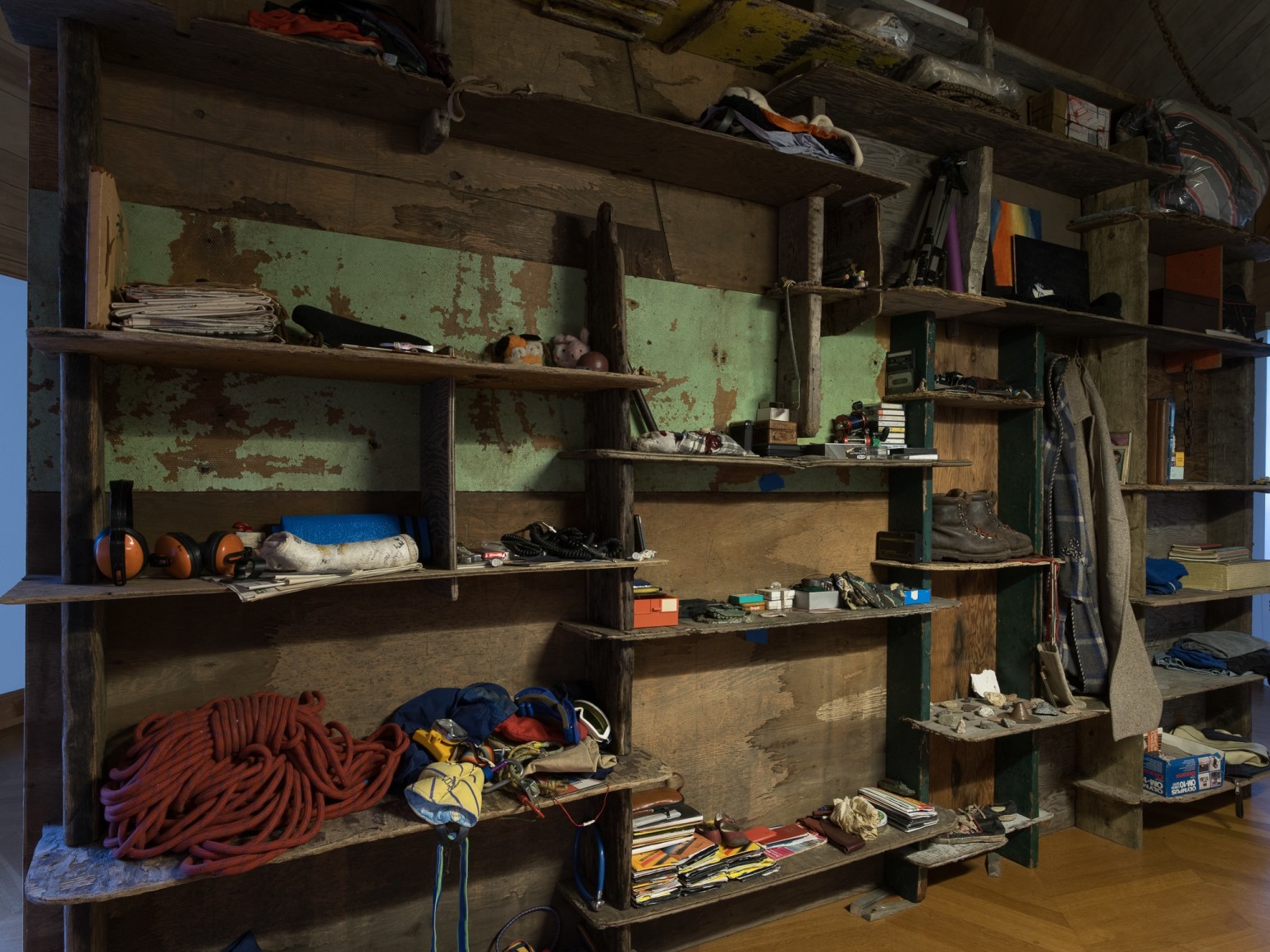 Mike Nelson
Eighty Circles through Canada (The Last Possessions of an Orcadian Mountain Man), 2013
35 mm slide projection (80 slides), 50mm lens, found wood, drywall, metal chains and a selection of Erlend Williamson's personal effects
Installation view: Indicators: Artists on Climate Change featuring works by more than a dozen artists that expore the changing climate, Storm King Art Center, 2018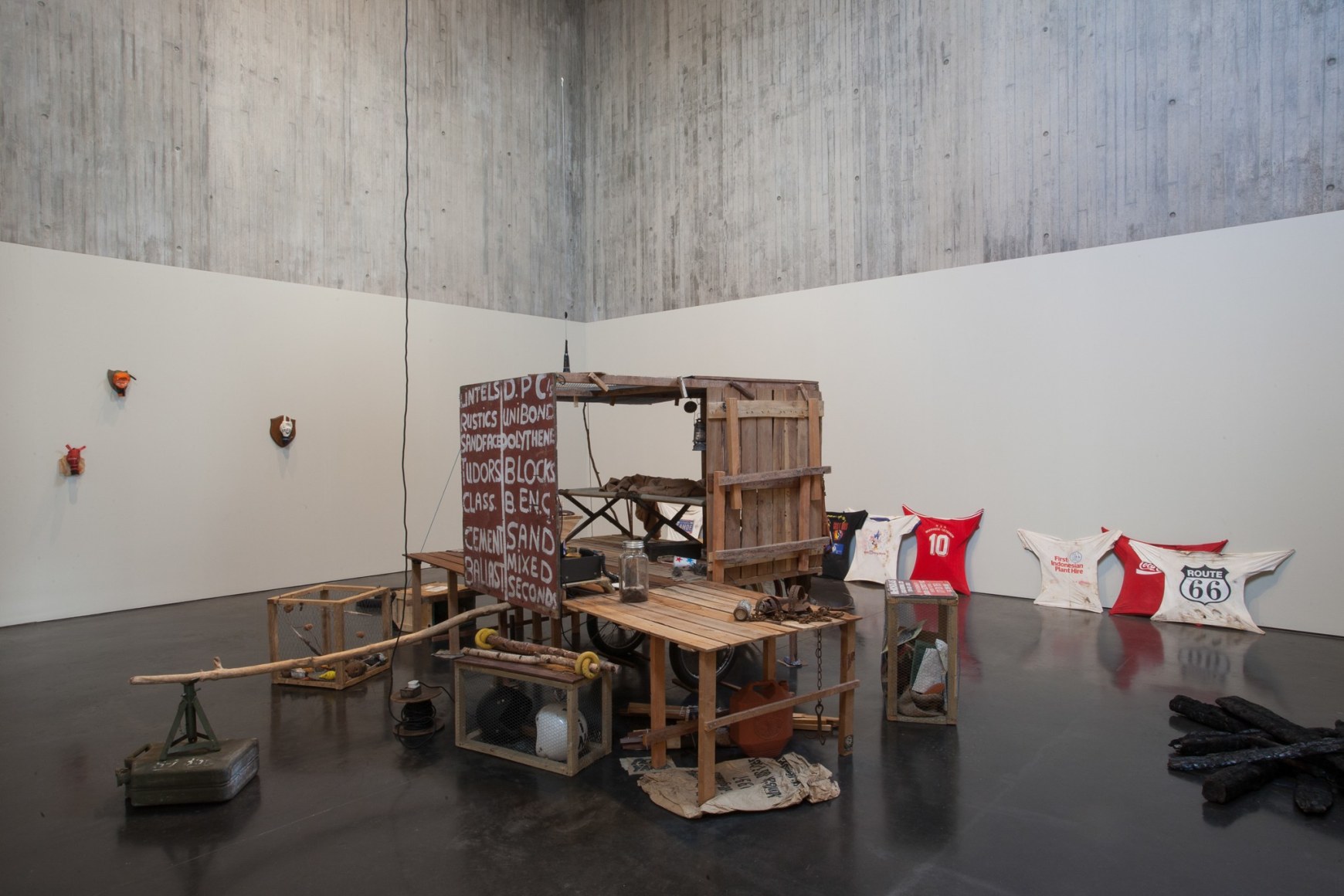 Mike Nelson, Lionheart, Installation view, The New Art Gallery Walsall, 2018.
Photo: Jonathan Shaw.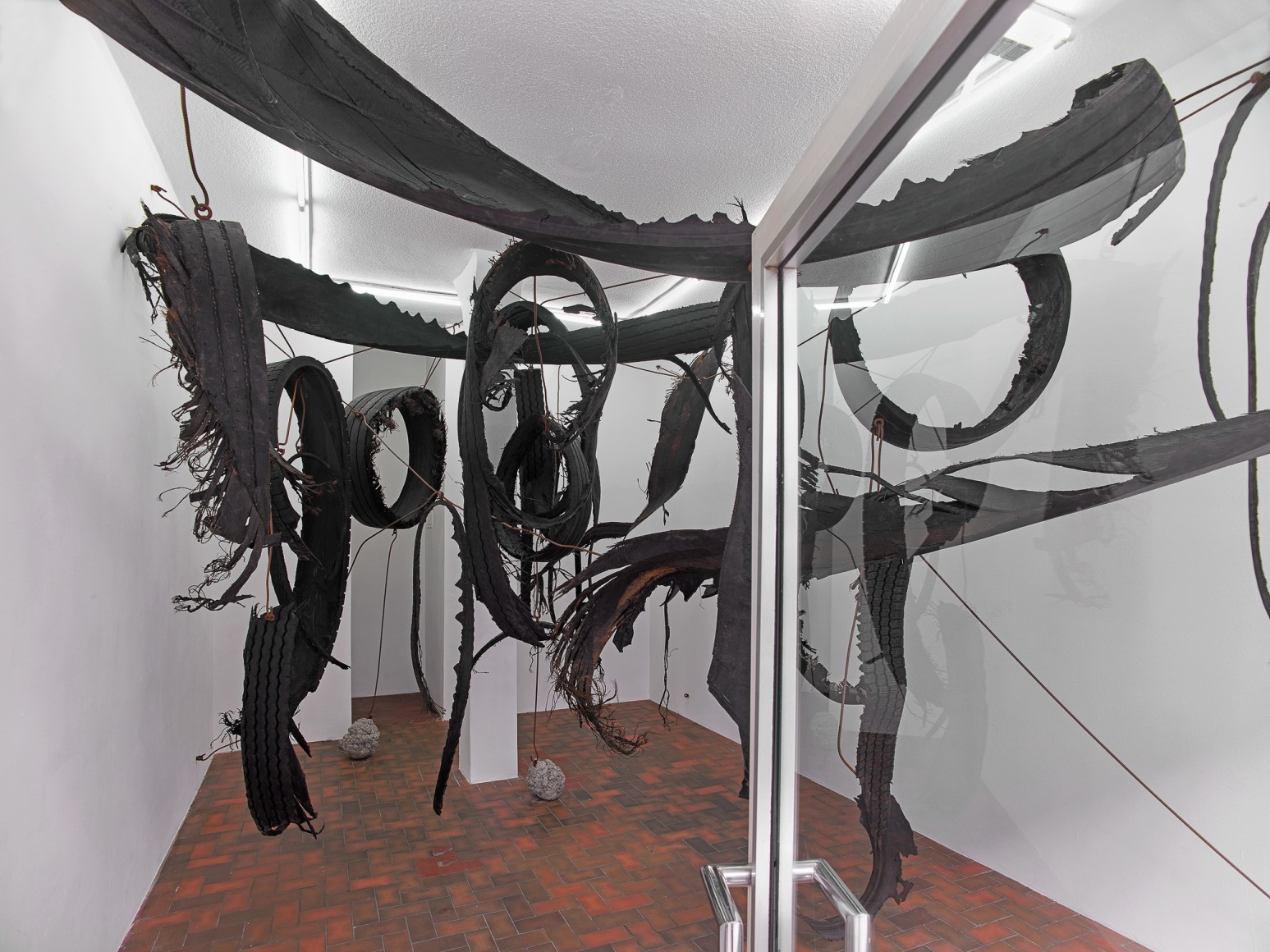 Installation view: Mike Nelson, A52, CAPRI, Düsseldorf, 2017
Photo: Achim Kukulies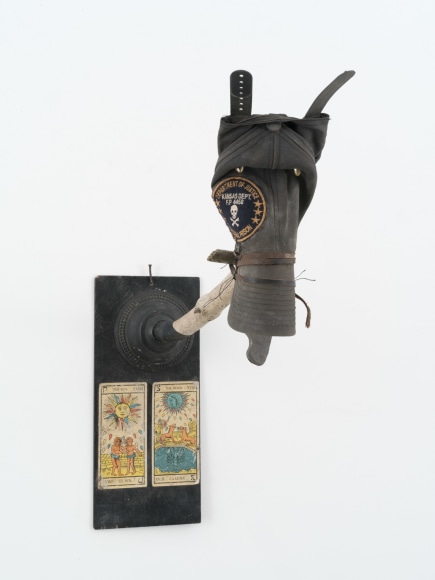 Mike Nelson
Trophy head (the Wizard)
2016
Wood, stone, metal, paper, cloth, plastic, leather, paint
21 1/2 x 7 x 25 inches (54.6 x 17.8 x 63.5 cm)
MN 113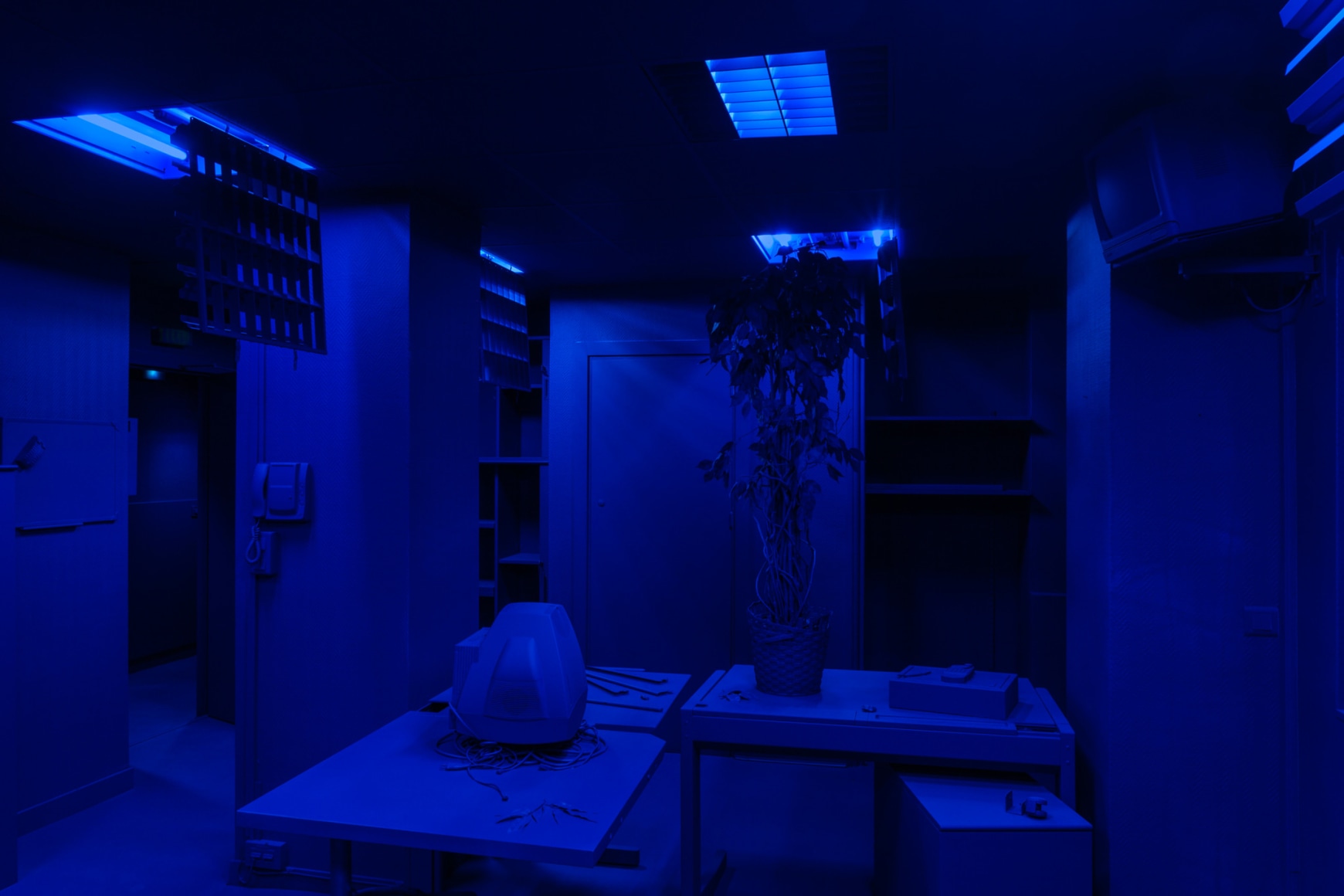 Mike Nelson
Cloak, 2016
NMNM, off-site project
Photo : NMNM /Sebastiano Pellion di Persano, 2016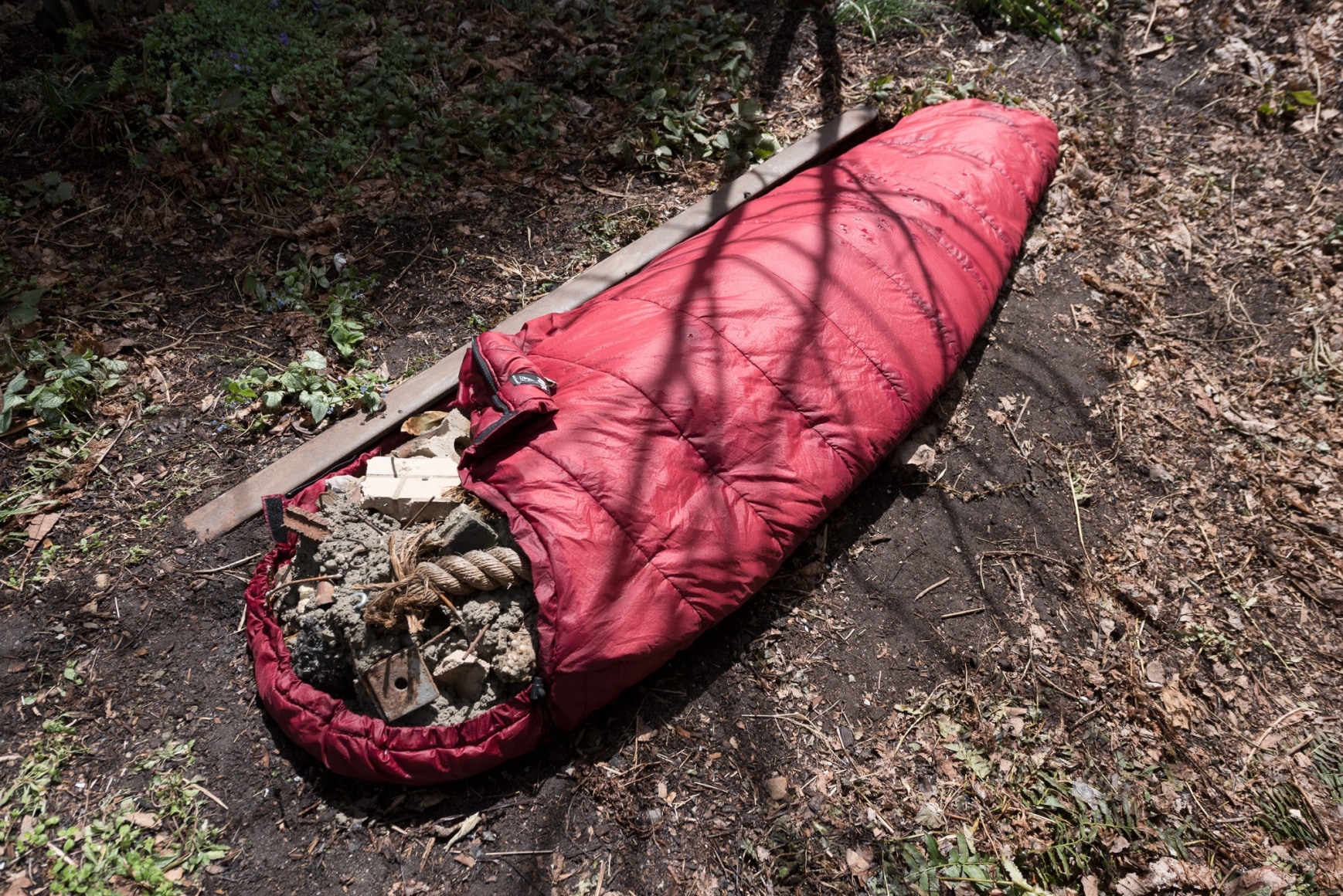 Mike Nelson
Untitled (public sculpture for a redundant space)
2016
Nylon sleeping bag, concrete, brick and other mixed media
12 x 94 x 31 inches (30.5 x 238.8 x 78.7 cm)
Photo by Timothy Schenck.
Courtesy of Friends of the High Line.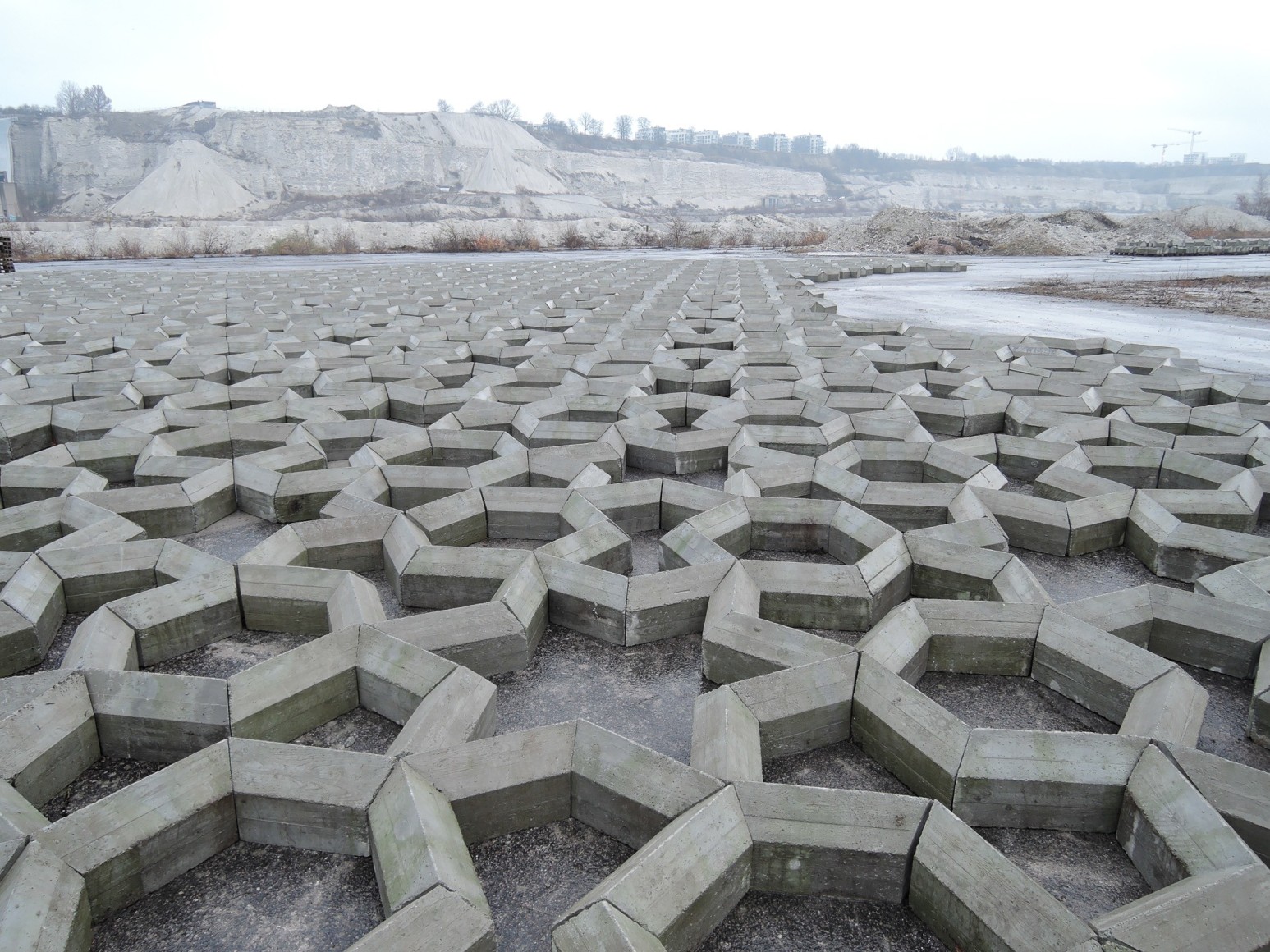 Mike Nelson, Imperfect geometry for a concrete quarry, 2016.
Kalkbrottet, Limhamn, Malmö, Sweden.
Photo: Malmö Konsthall.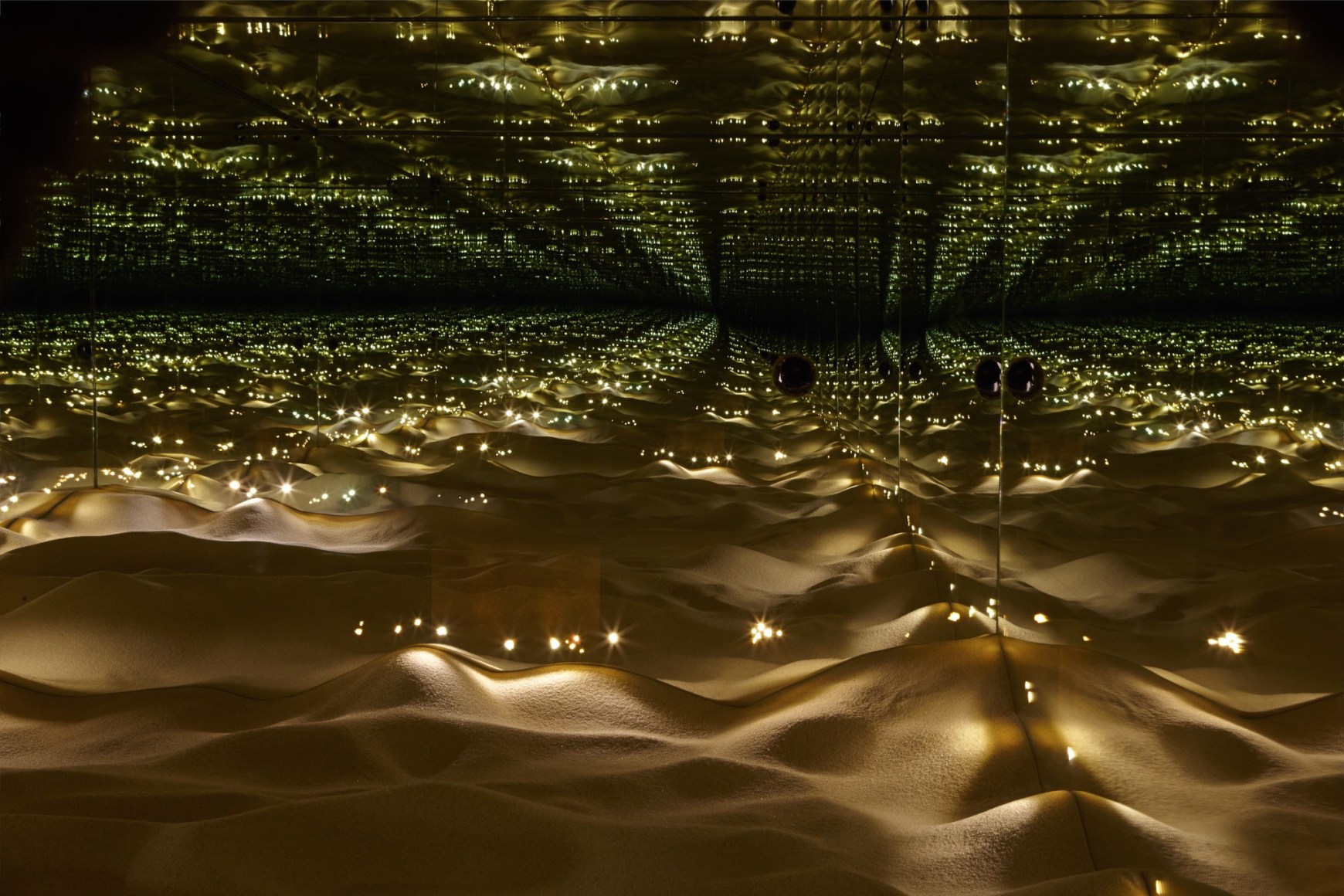 Installation view: Sensory Spaces 8 - Mike Nelson
Museum Boijmans Van Beuningen, 2016
Photo: Studio Hans Wilschut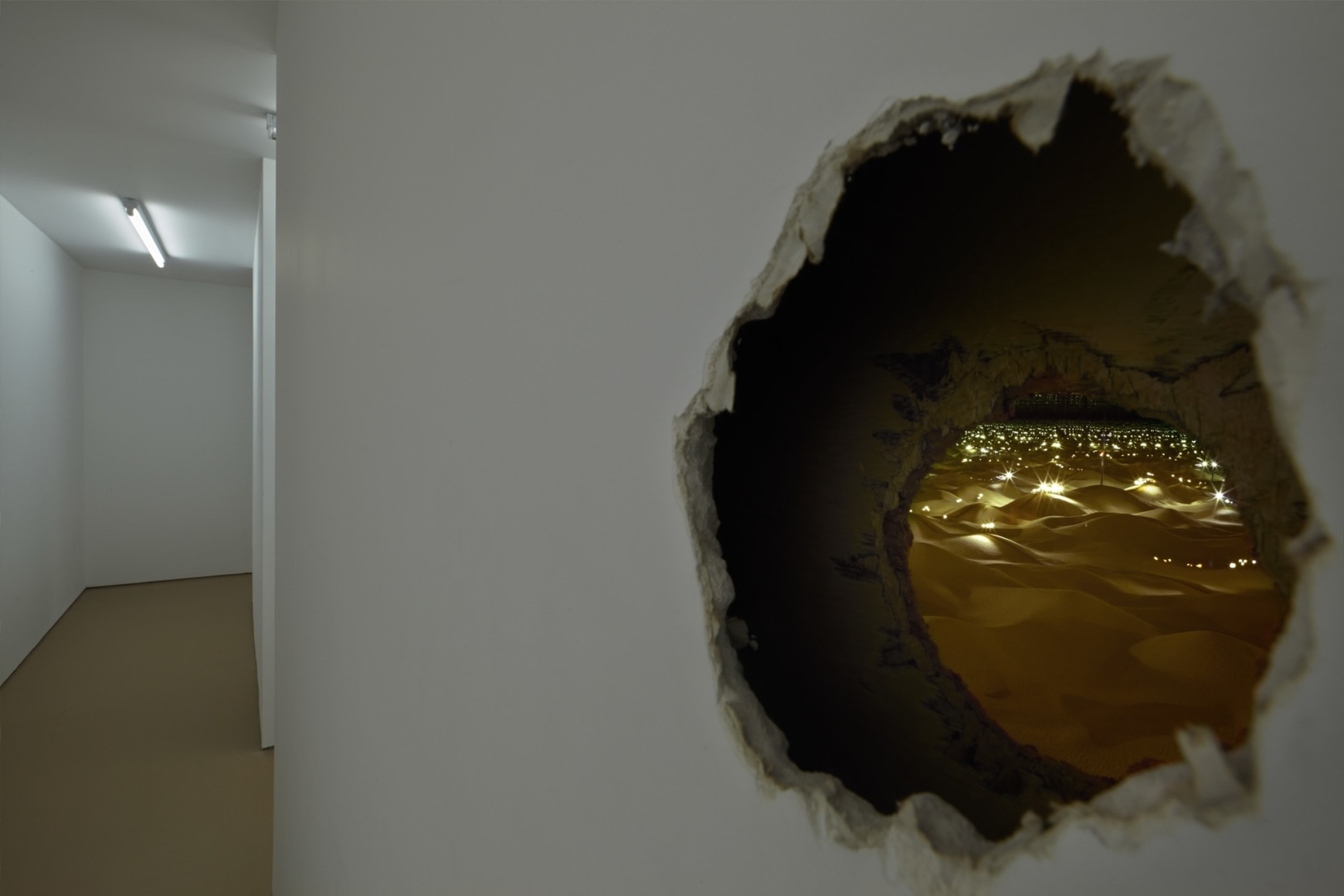 Installation view: Sensory Spaces 8 - Mike Nelson
Museum Boijmans Van Beuningen, 2016
Photo: Studio Hans Wilschut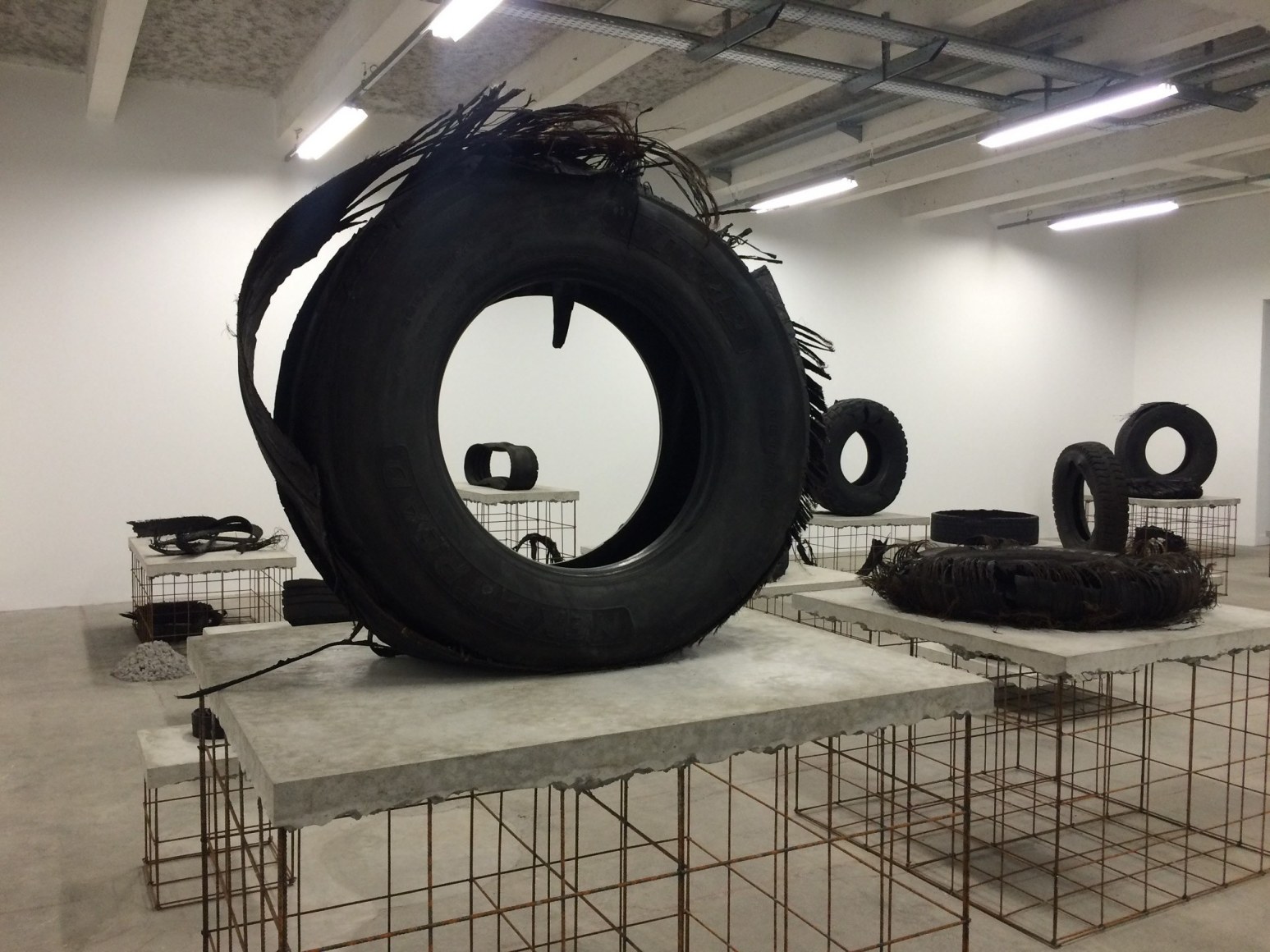 Mike Nelson
A7 (Route du Soleil), 2015
Installation view: 13th Biennale de Lyon
September 10, 2015 - January 3, 2016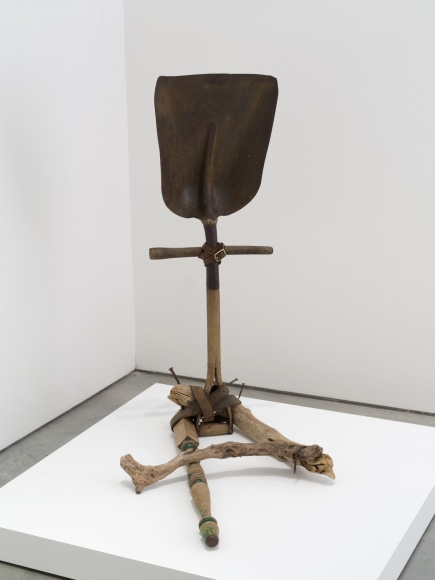 Mike Nelson
William Wilson
2015
Sticks, shovel, nails, leather, belt buckle
42 x 35 x 24 inches (106.7 x 88.9 x 61 cm)
MN 94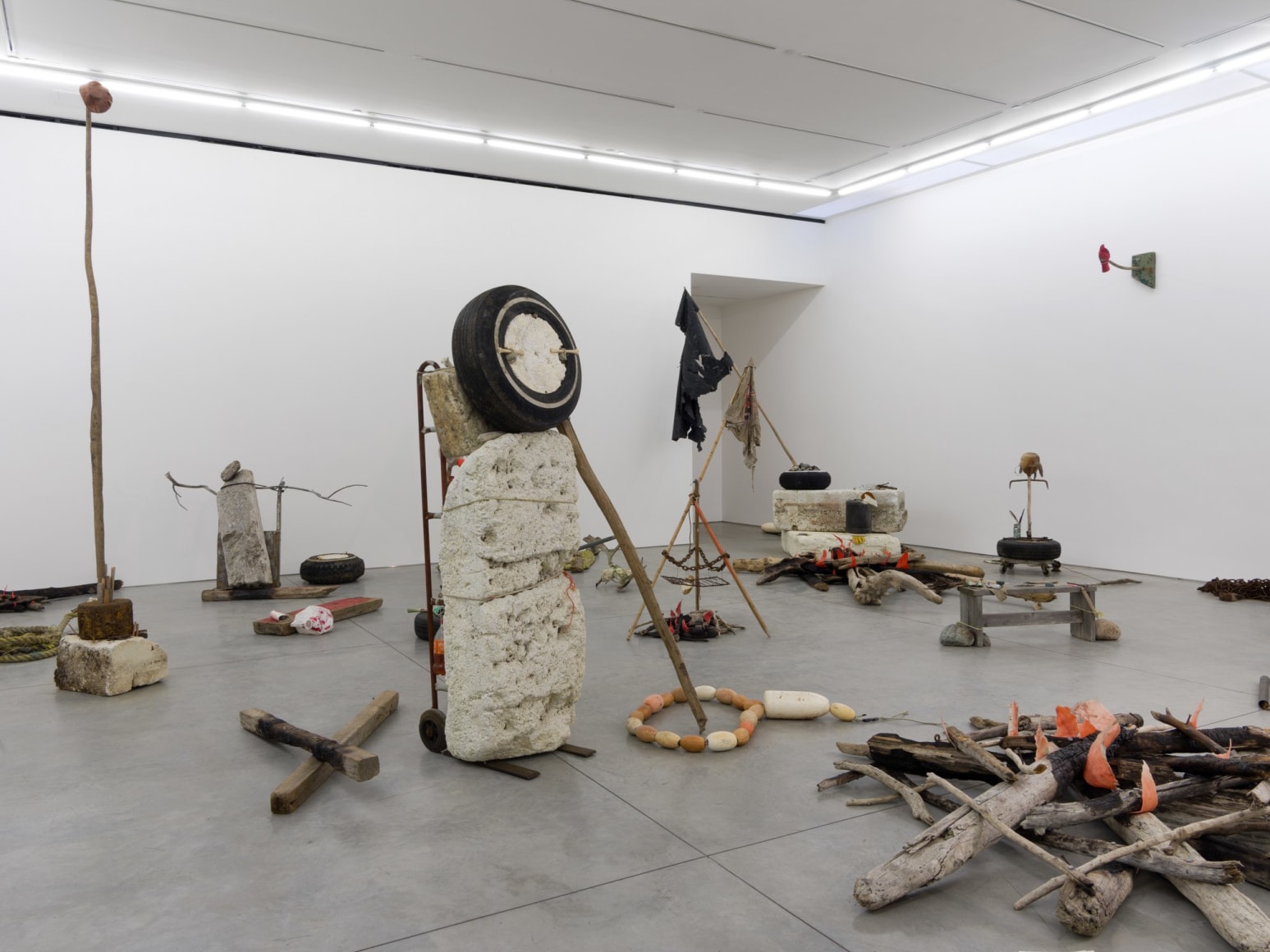 Mike Nelson
Gang of Seven
2013
Installation at 303 Gallery, New York
January 17 - February 21, 2015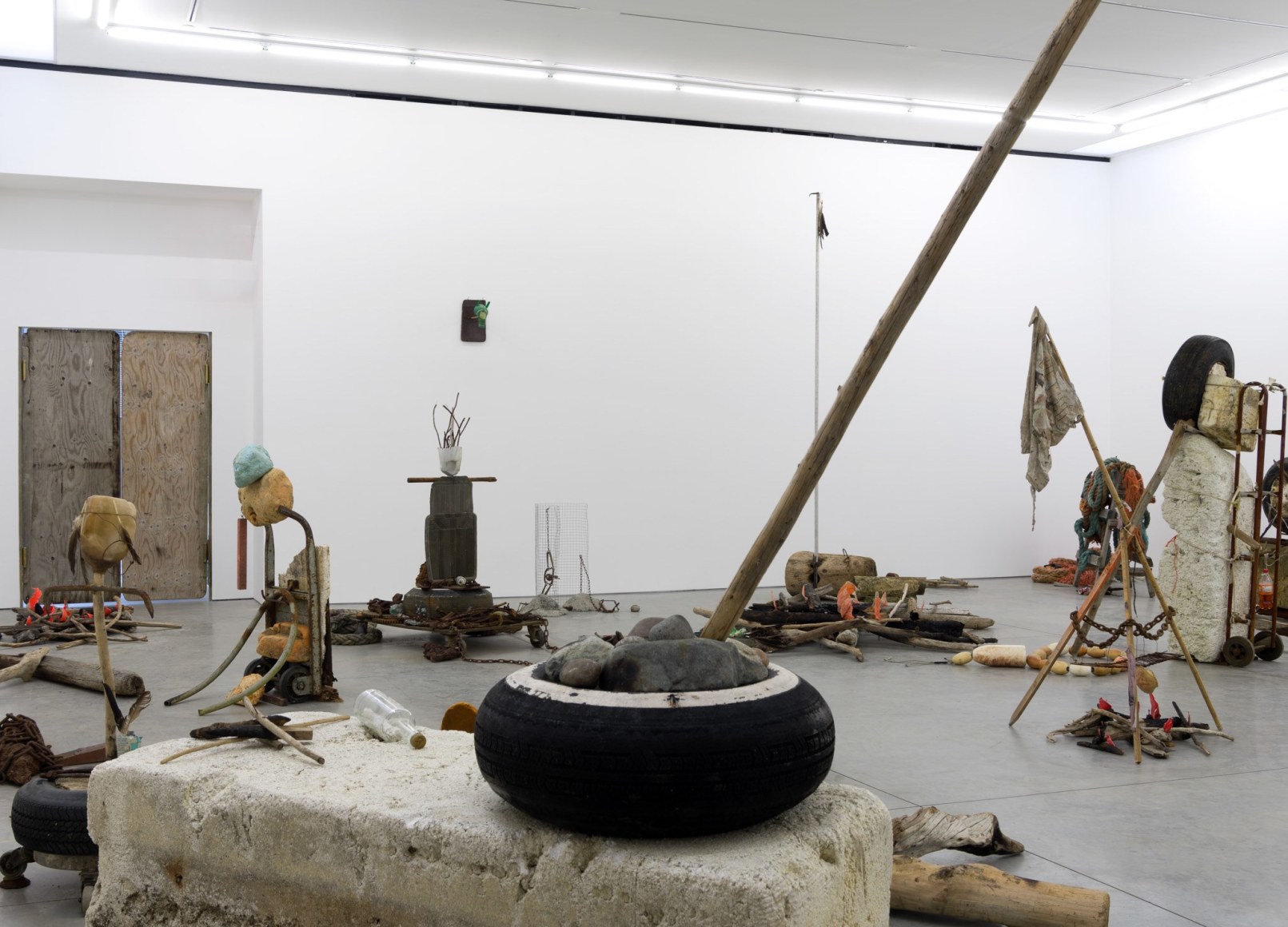 Mike Nelson
Gang of Seven
2013
Installation at 303 Gallery, New York
January 17 - February 21, 2015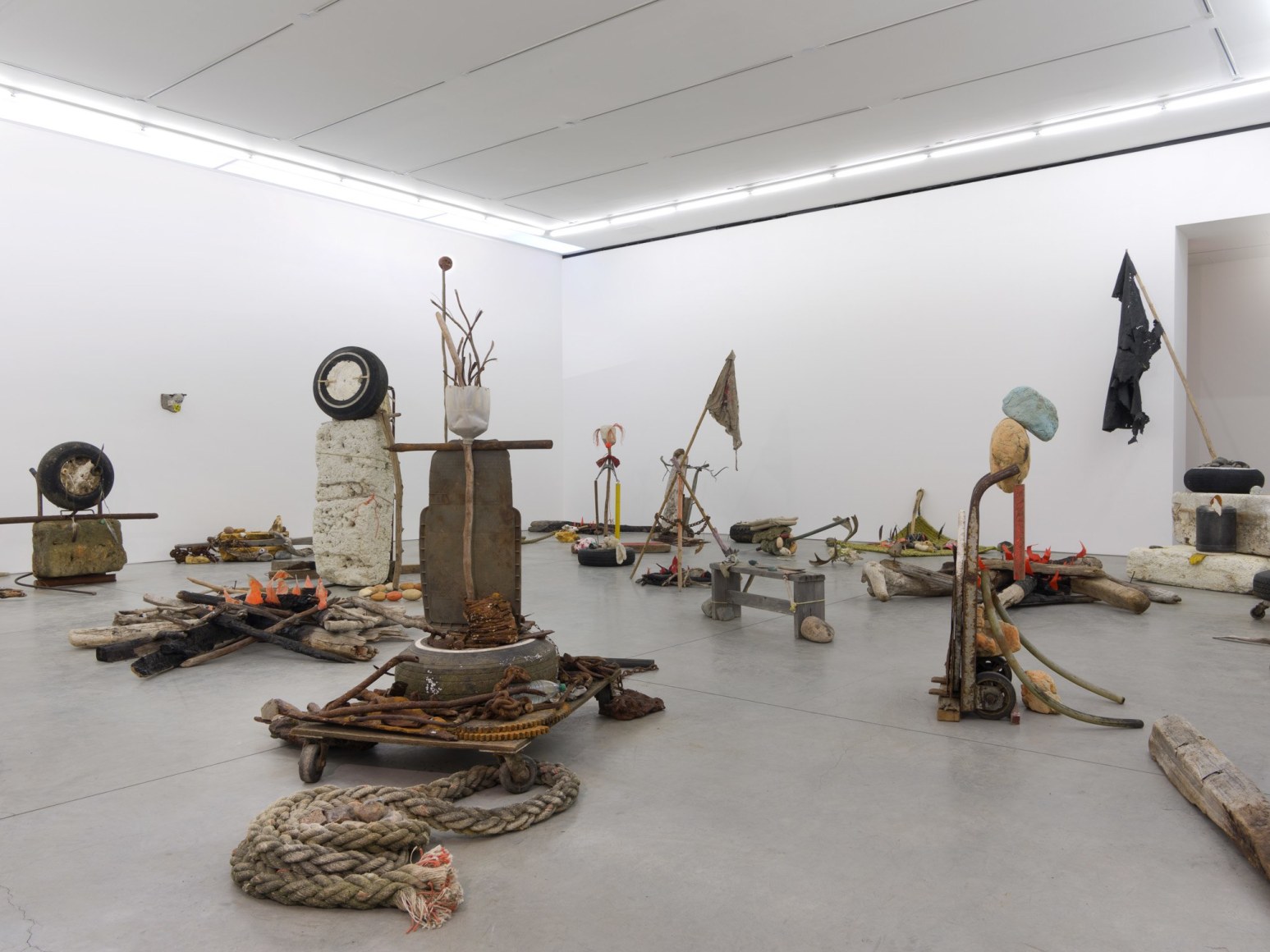 Mike Nelson
Gang of Seven
2013
Installation at 303 Gallery, New York
January 17 - February 21, 2015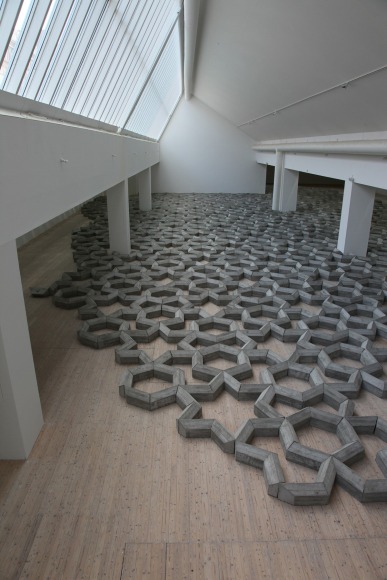 Mike Nelson
Installation view: 408 tons of imperfect geometry
Malmö Konsthall, Sweden
August 18 - October 21, 2012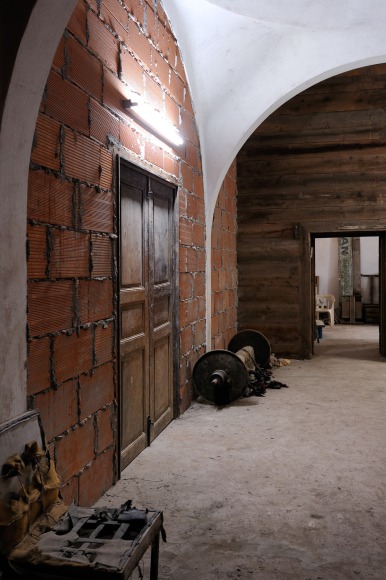 Mike Nelson
Installation view: I, Imposter
Venice Biennale 2011, British Pavillion
June 4 - November 27, 2011
Photo: Cristiano Corte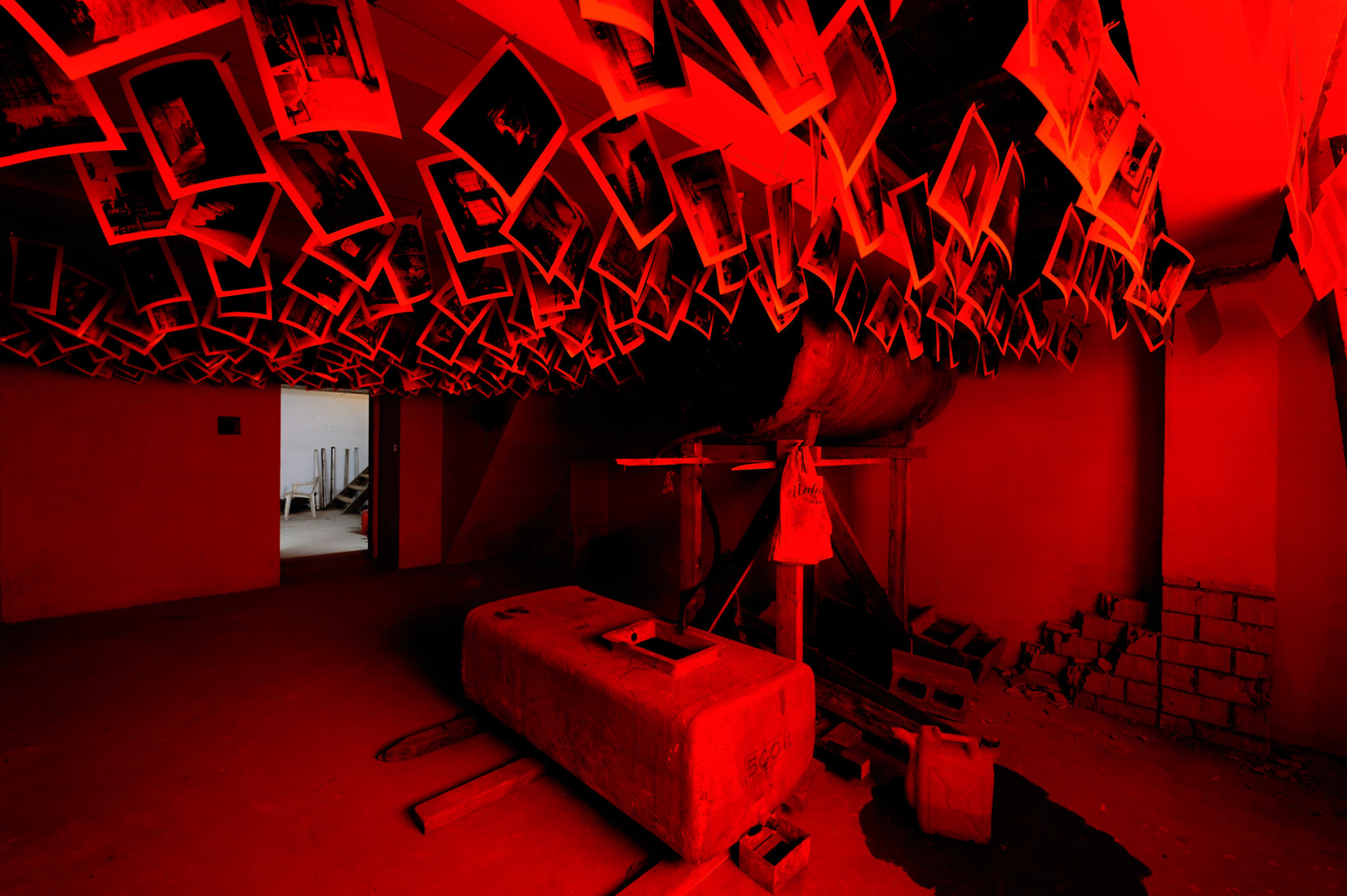 Mike Nelson
Installation view: I, Imposter
Venice Biennale 2011, British Pavillion
June 4 - November 27, 2011
Photo: Cristiano Corte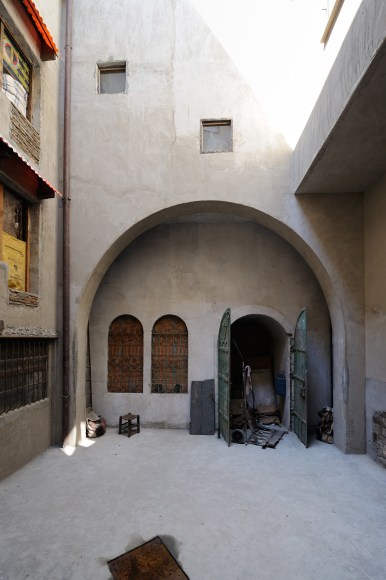 Mike Nelson
Installation view: I, Imposter
Venice Biennale 2011, British Pavillion
June 4 - November 27, 2011
Photo: Cristiano Corte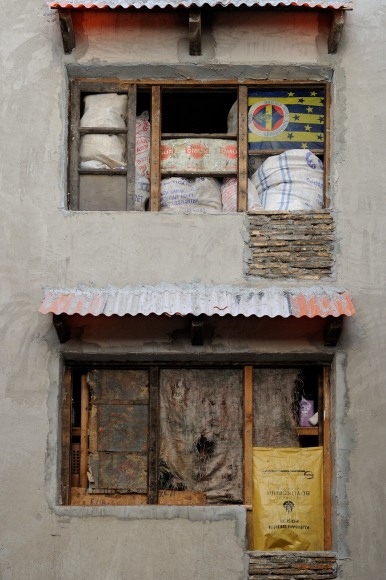 Mike Nelson
Installation view: I, Imposter
Venice Biennale 2011, British Pavillion
June 4 - November 27, 2011
Photo: Cristiano Corte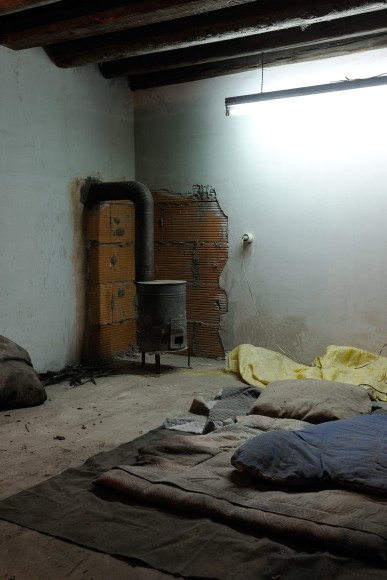 Mike Nelson
Installation view: I, Imposter
Venice Biennale 2011, British Pavillion
June 4 - November 27, 2011
Photo: Cristiano Corte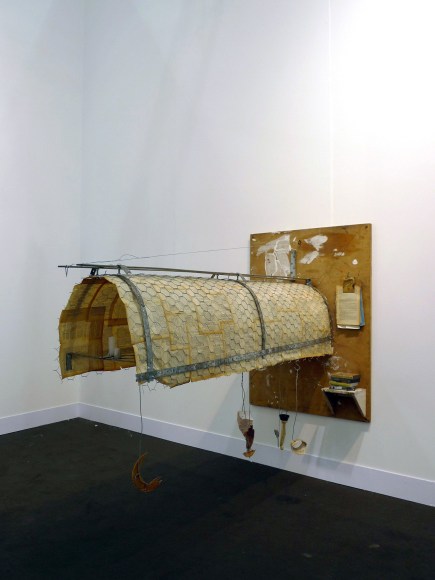 Mike Nelson
Towards a lexicon of phenomena and information association, an intermediate home apparatus - moon high, bone black
2011
Mixed Media
35 1/4 x 25 1/2 x 53 3/4 inches
(89.5 x 64.8 x 136.5 cm)
MN 73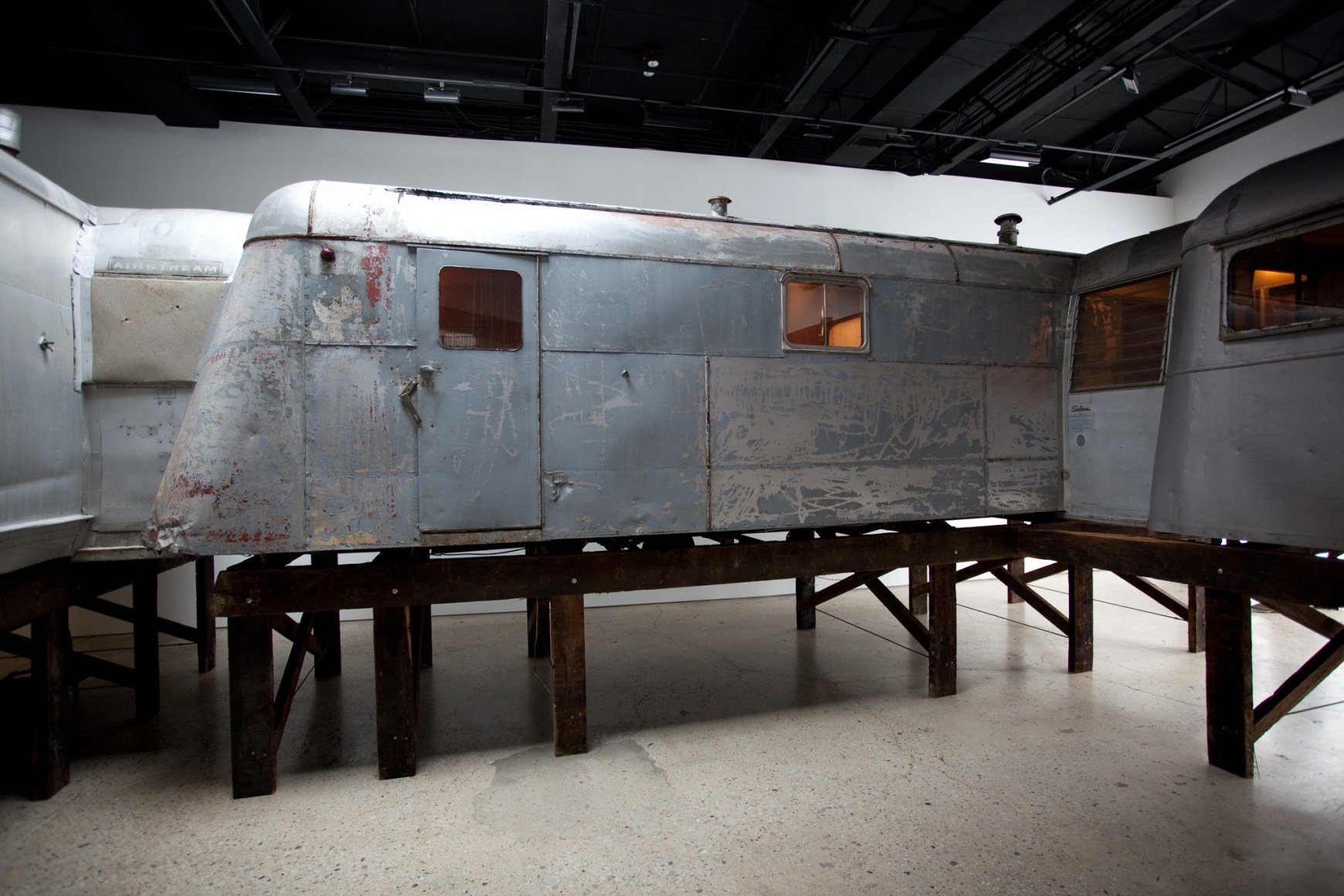 Installation view
Mike Nelson
Quiver of Arrows
303 Gallery, New York
February 27 - April 10, 2010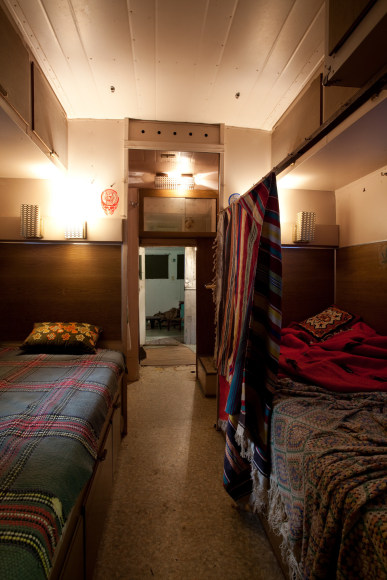 Installation view
Mike Nelson
Quiver of Arrows
303 Gallery, New York
February 27 - April 10, 2010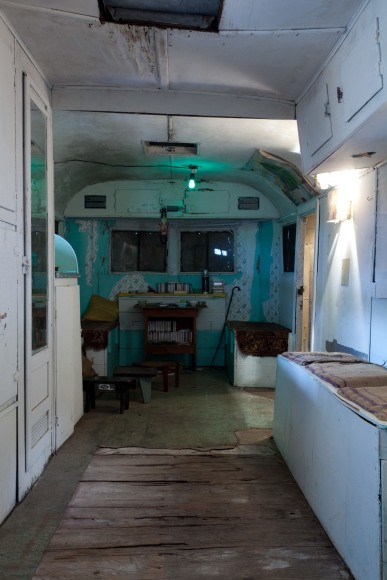 Installation view
Mike Nelson
Quiver of Arrows
303 Gallery, New York
February 27 - April 10, 2010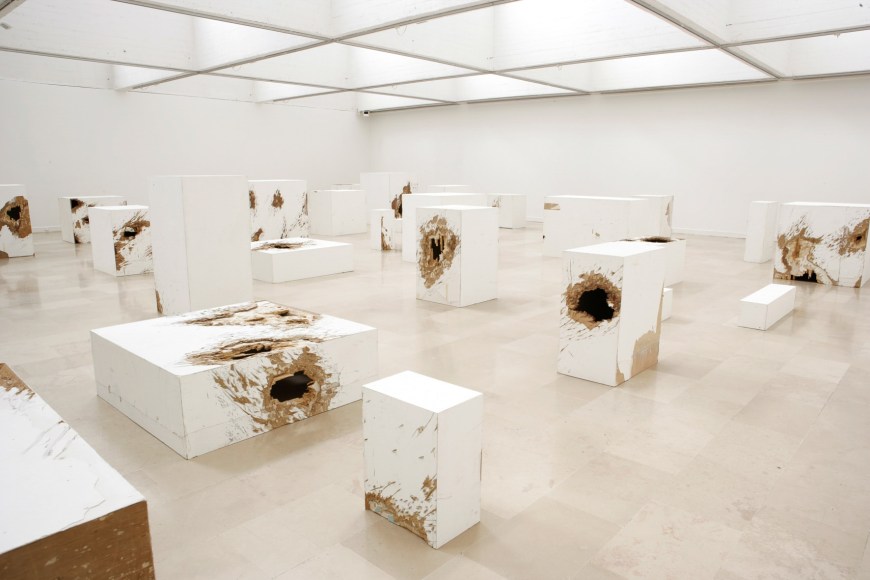 Mike Nelson
Installation view: Le Cannibale (Parody, Consumption and Institutional Critique)
Villa Arson, Nice
October 31, 2008 - February 1, 2009
Photo: Villa Arson / J. Brasille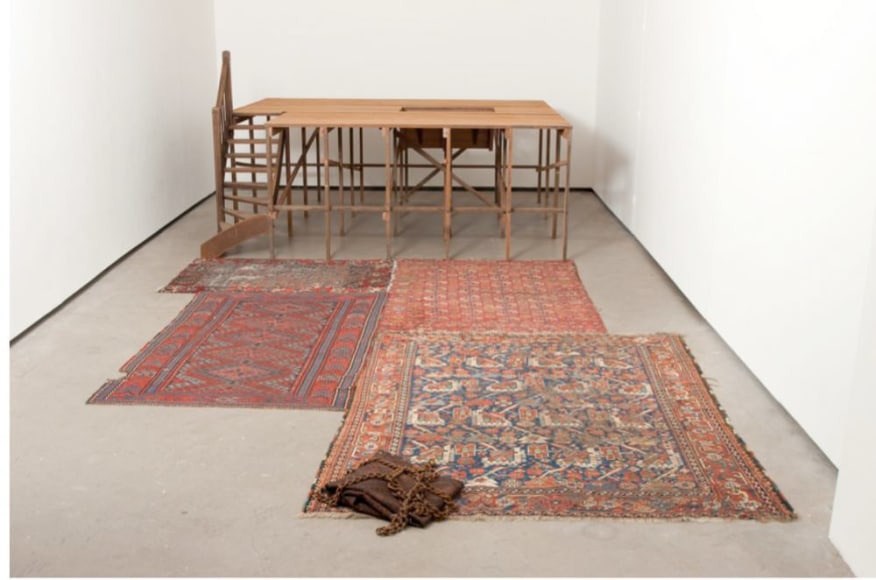 Mike Nelson
Triptych, 2009
Mixed media
53 1/2 x 94 3/4 x 96 inches
(135.9 x 240.7 x 243.8 cm)
MN 21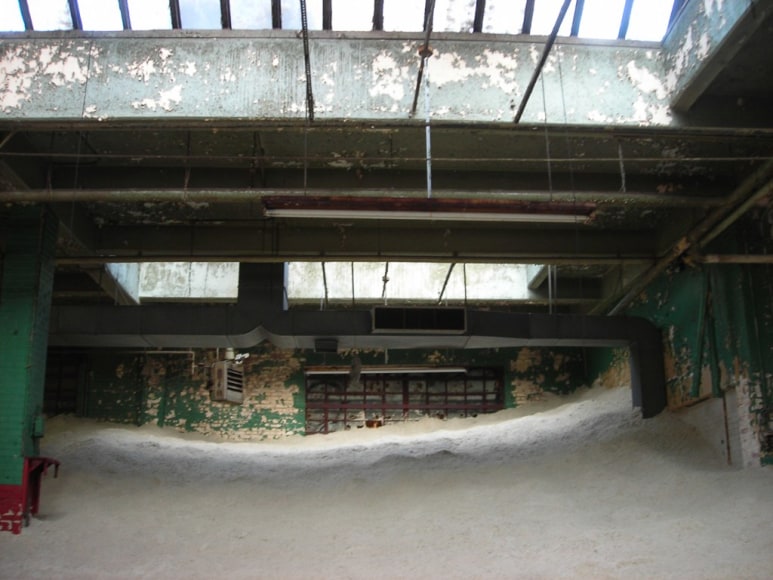 Mike Nelson
Installation view: A Psychic Vacuum
Commissioned by Creative Time
Old Essex Street Market, New York
September 8 - October 28, 2007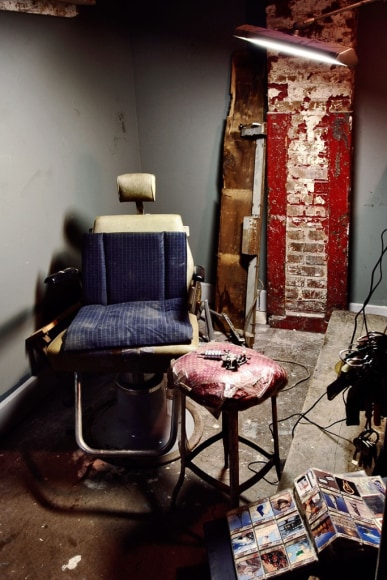 Mike Nelson
Installation view: A Psychic Vacuum
Commissioned by Creative Time
Old Essex Street Market, New York
September 8 - October 28, 2007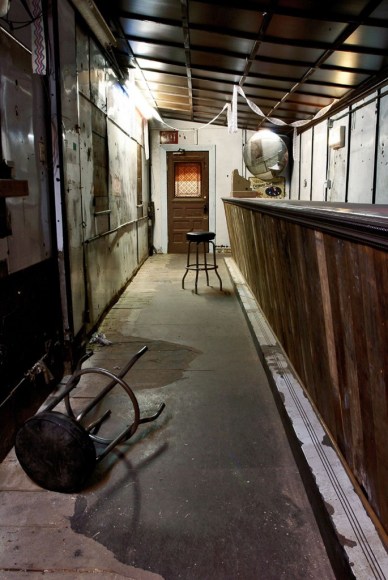 Mike Nelson
Installation view: A Psychic Vacuum
Commissioned by Creative Time
Old Essex Street Market, New York
September 8 - October 28, 2007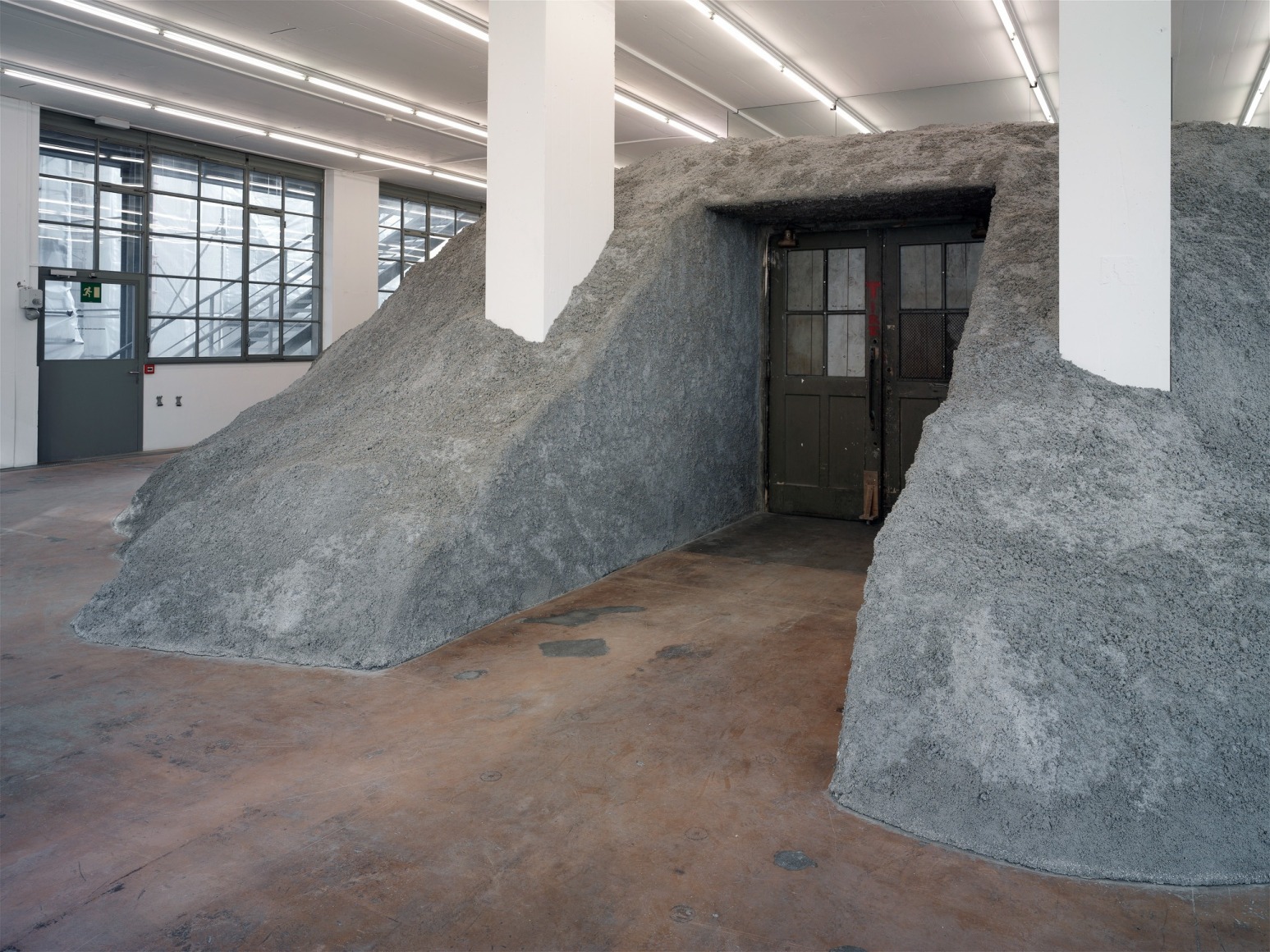 Mike Nelson
Studio Apparatus for MAMCO – An Intermediate Structure For A Museum : Introduction; Building Transplant In Three Sections; Towards A Revisiting Of Futurobjectics (As Voodoo Shrine); Mysterious Island*
*see introduction
Or Humpty Dumpty
MAMCO, Musee d'art moderne et contemporain, Genève
June 7 - September 18, 2005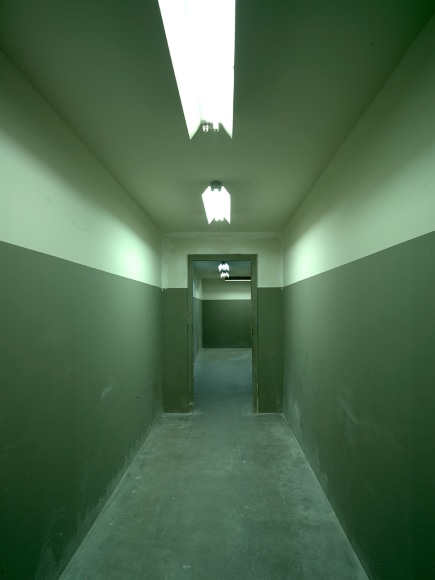 Mike Nelson
Studio Apparatus for MAMCO – An Intermediate Structure For A Museum : Introduction; Building Transplant In Three Sections; Towards A Revisiting Of Futurobjectics (As Voodoo Shrine); Mysterious Island*
*see introduction
Or Humpty Dumpty
MAMCO, Musee d'art moderne et contemporain, Genève
June 7 - September 18, 2005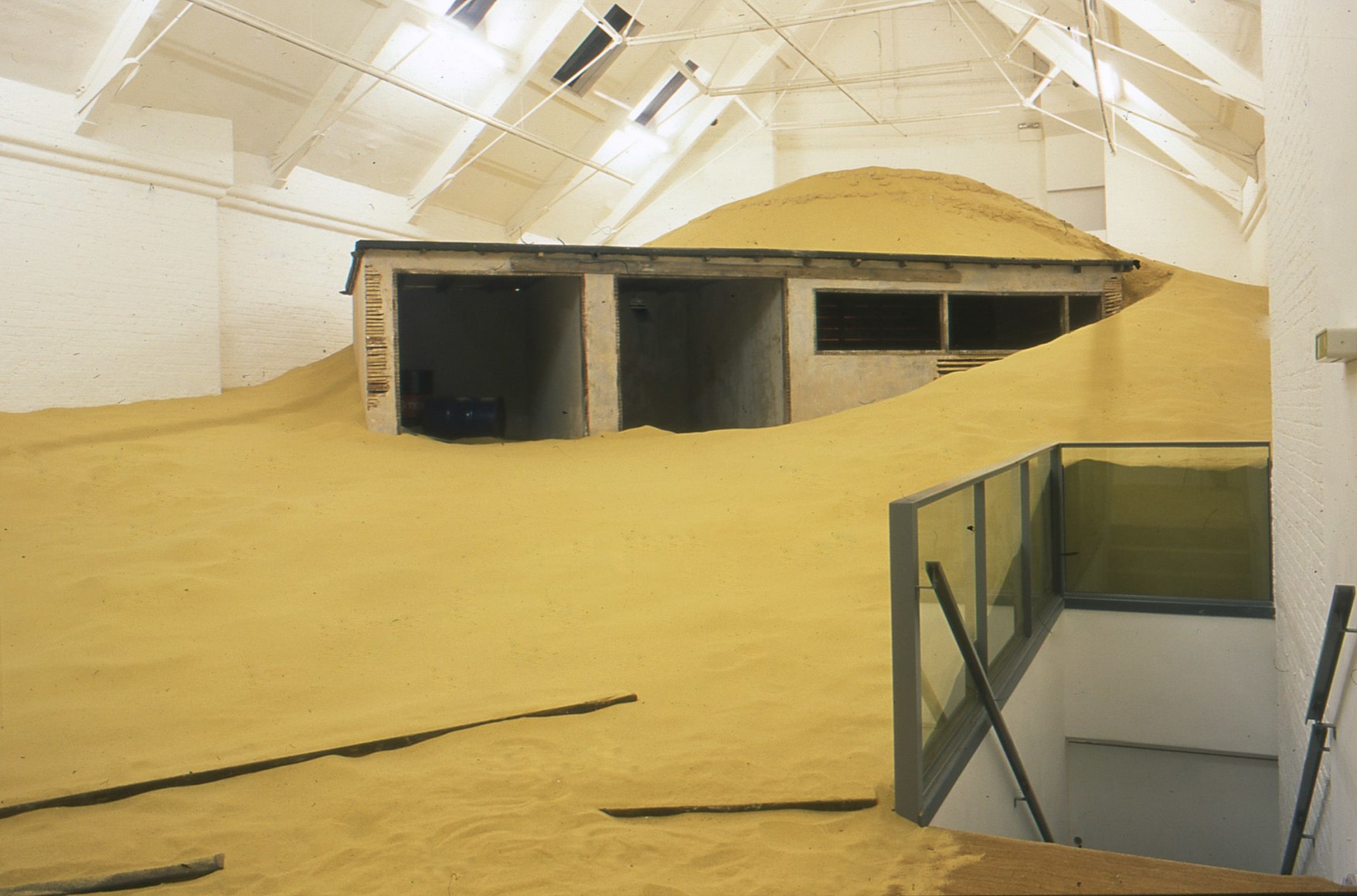 Mike Nelson
Triple Bluff Canyon, 2004
Installation view: Modern Art, Oxford
May 8 - July 4, 2004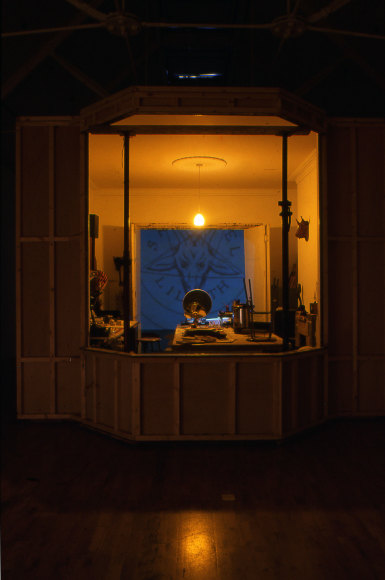 Mike Nelson
Triple Bluff Canyon, 2004
Installation view: Modern Art, Oxford
May 8 - July 4, 2004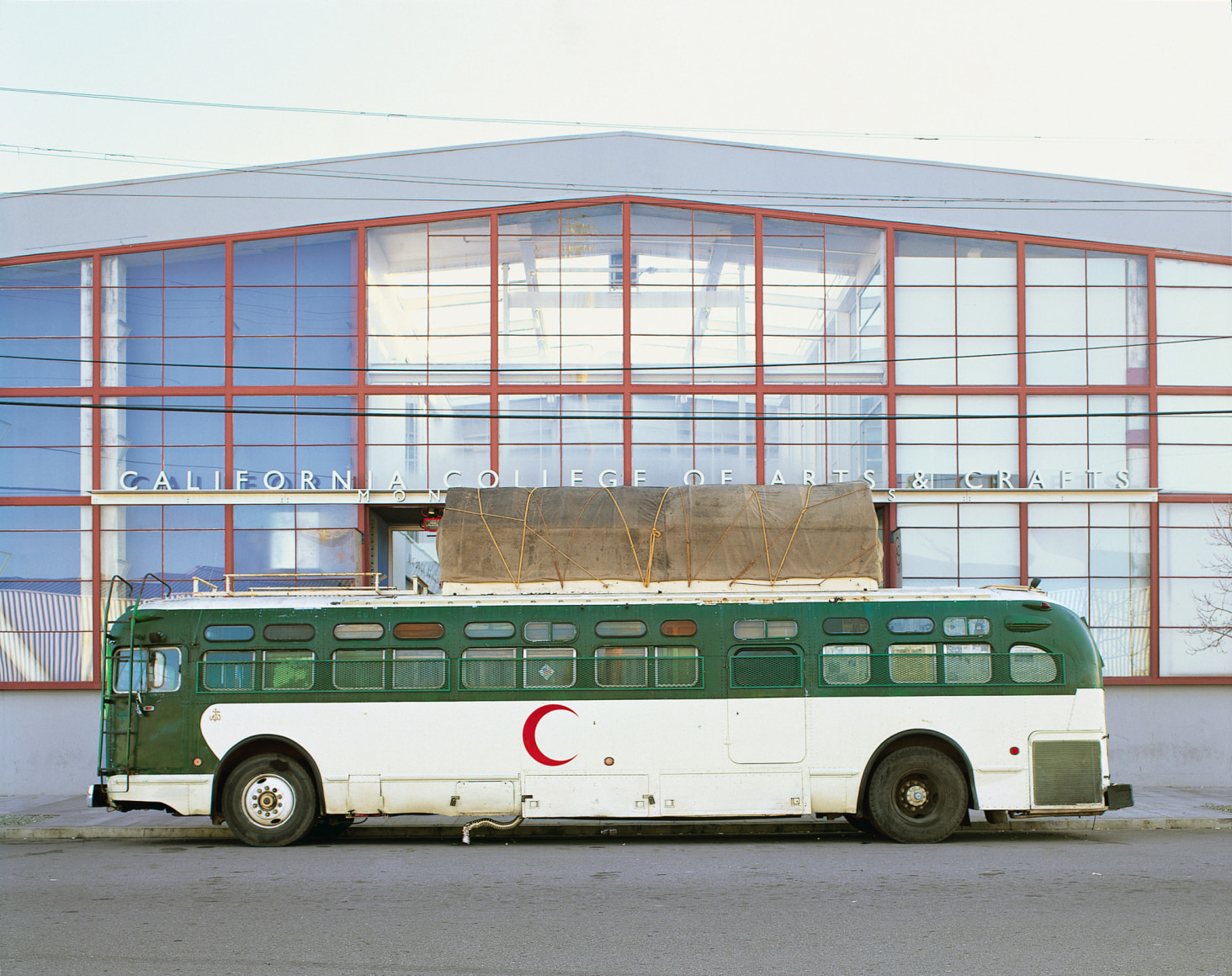 Mike Nelson
The Pumpkin Palace, 2003
Converted 1954 GMC touring bus and various materials
168 x 480 x 102 inches (426.7 x 1219.2 x 259.1 cm)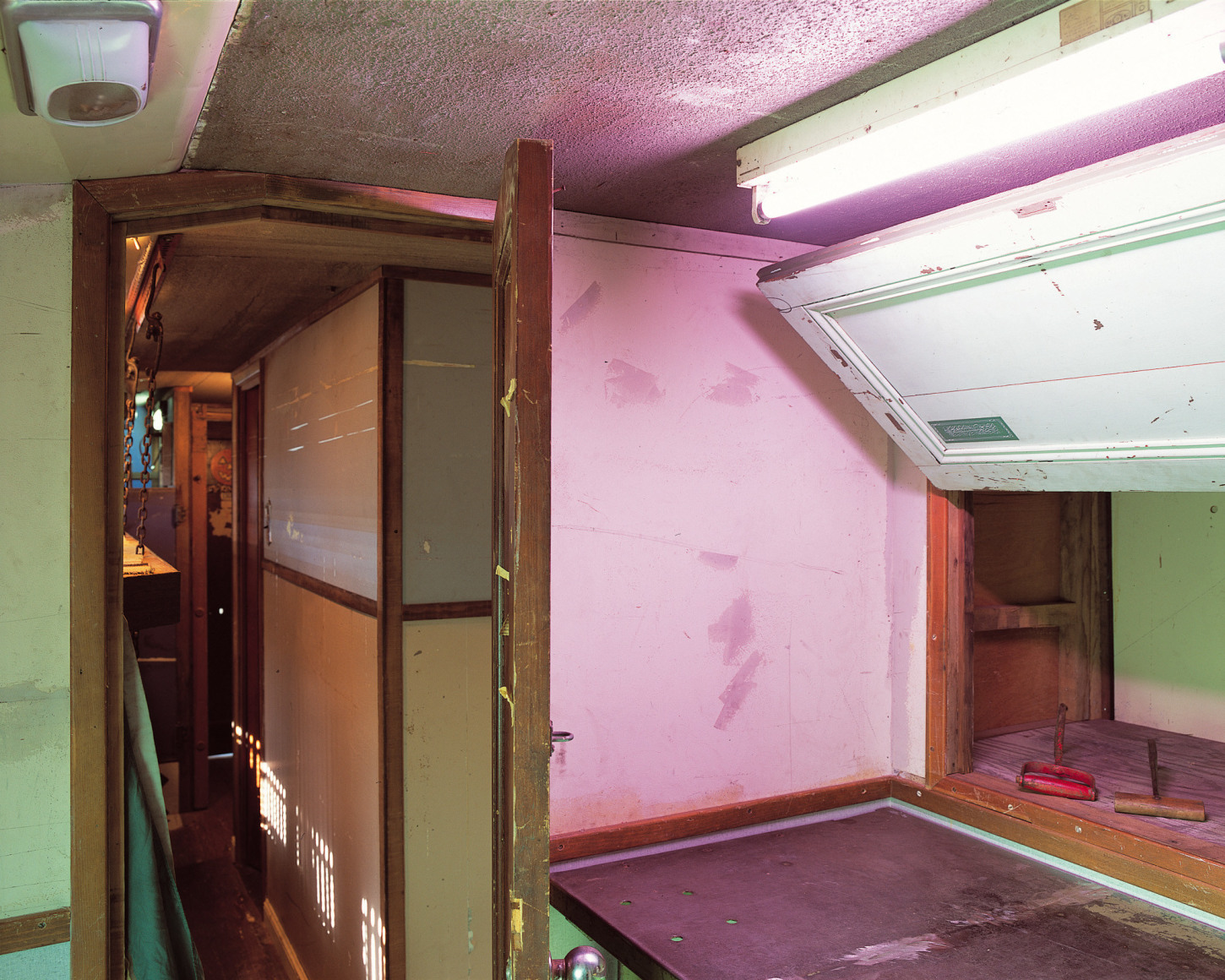 Mike Nelson
The Pumpkin Palace, 2003
Converted 1954 GMC touring bus and various materials
168 x 480 x 102 inches (426.7 x 1219.2 x 259.1 cm)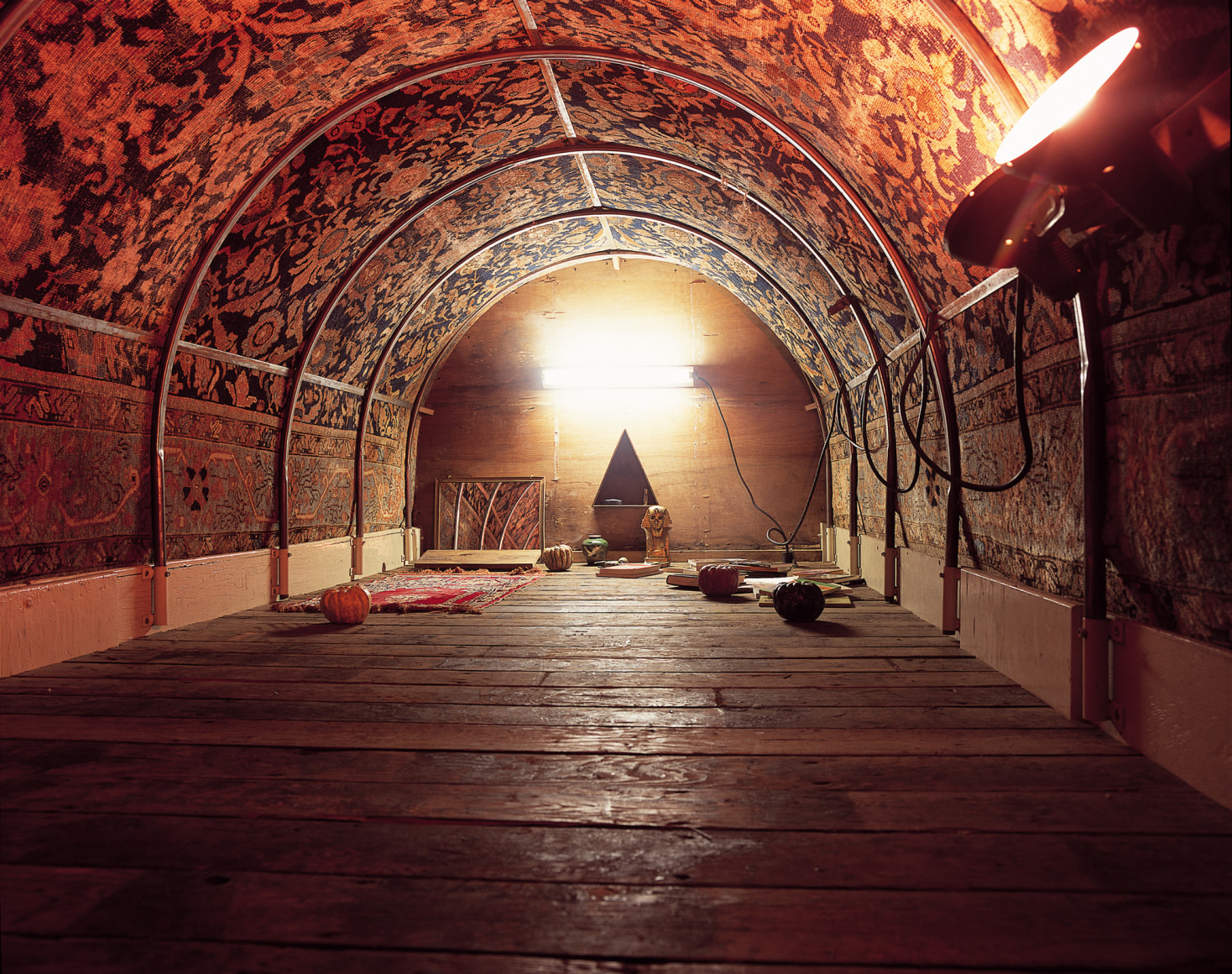 Mike Nelson
The Pumpkin Palace, 2003
Converted 1954 GMC touring bus and various materials
168 x 480 x 102 inches (426.7 x 1219.2 x 259.1 cm)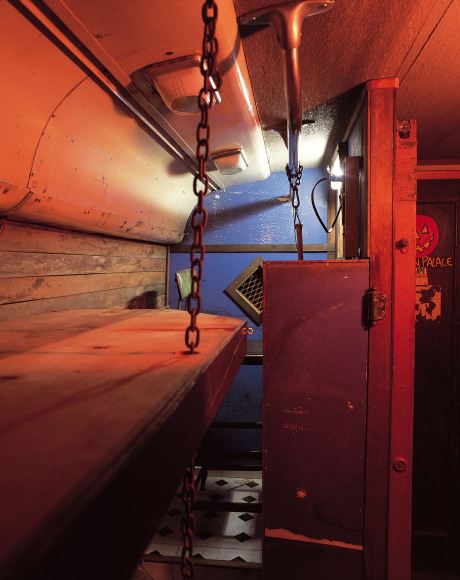 Mike Nelson
The Pumpkin Palace, 2003
Converted 1954 GMC touring bus and various materials
168 x 480 x 102 inches (426.7 x 1219.2 x 259.1 cm)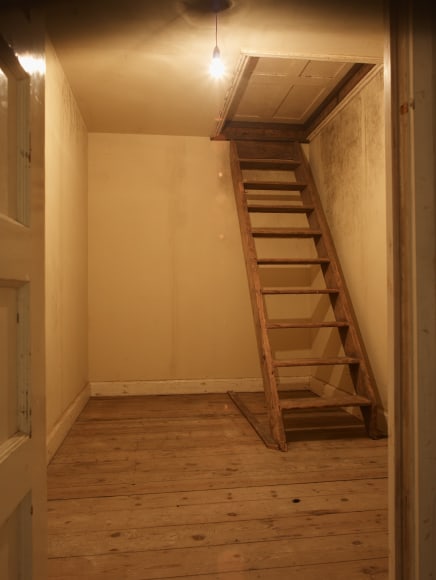 Mike Nelson
Melnais Kakis, 1999
Mixed media
2 rooms: 10 x 12 x 8 ft (304.8 x 365.8 x 243.8 cm) each
MN 6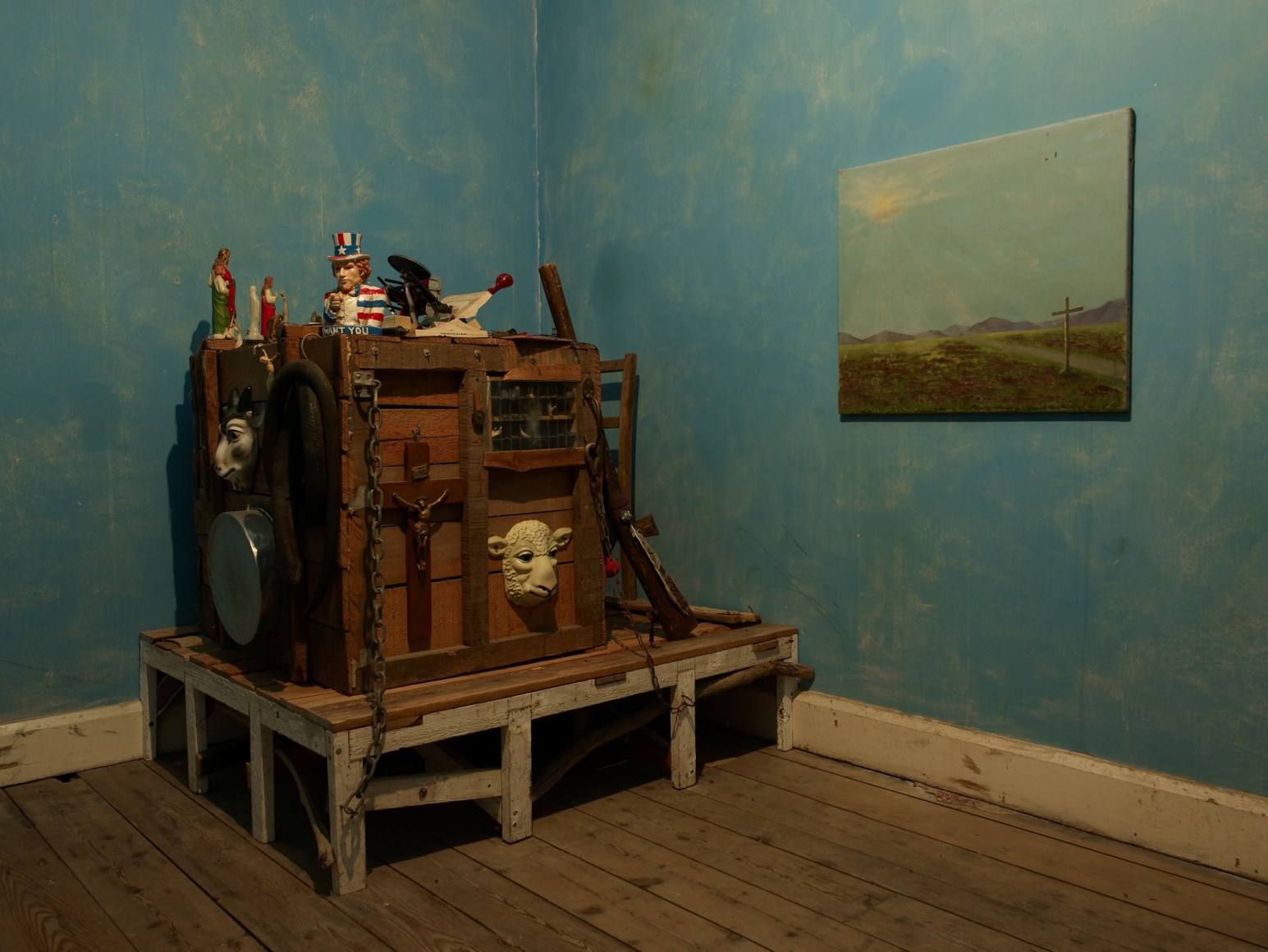 Mike Nelson
Melnais Kakis, 1999
Mixed media
2 rooms: 10 x 12 x 8 ft (304.8 x 365.8 x 243.8 cm) each
MN 6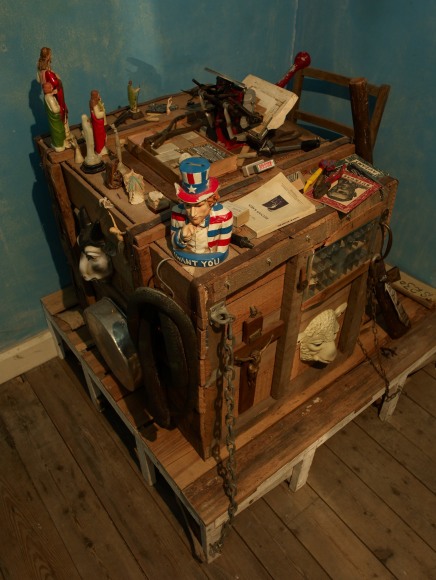 Mike Nelson
Melnais Kakis, 1999
Mixed media
2 rooms: 10 x 12 x 8 ft (304.8 x 365.8 x 243.8 cm) each
MN 6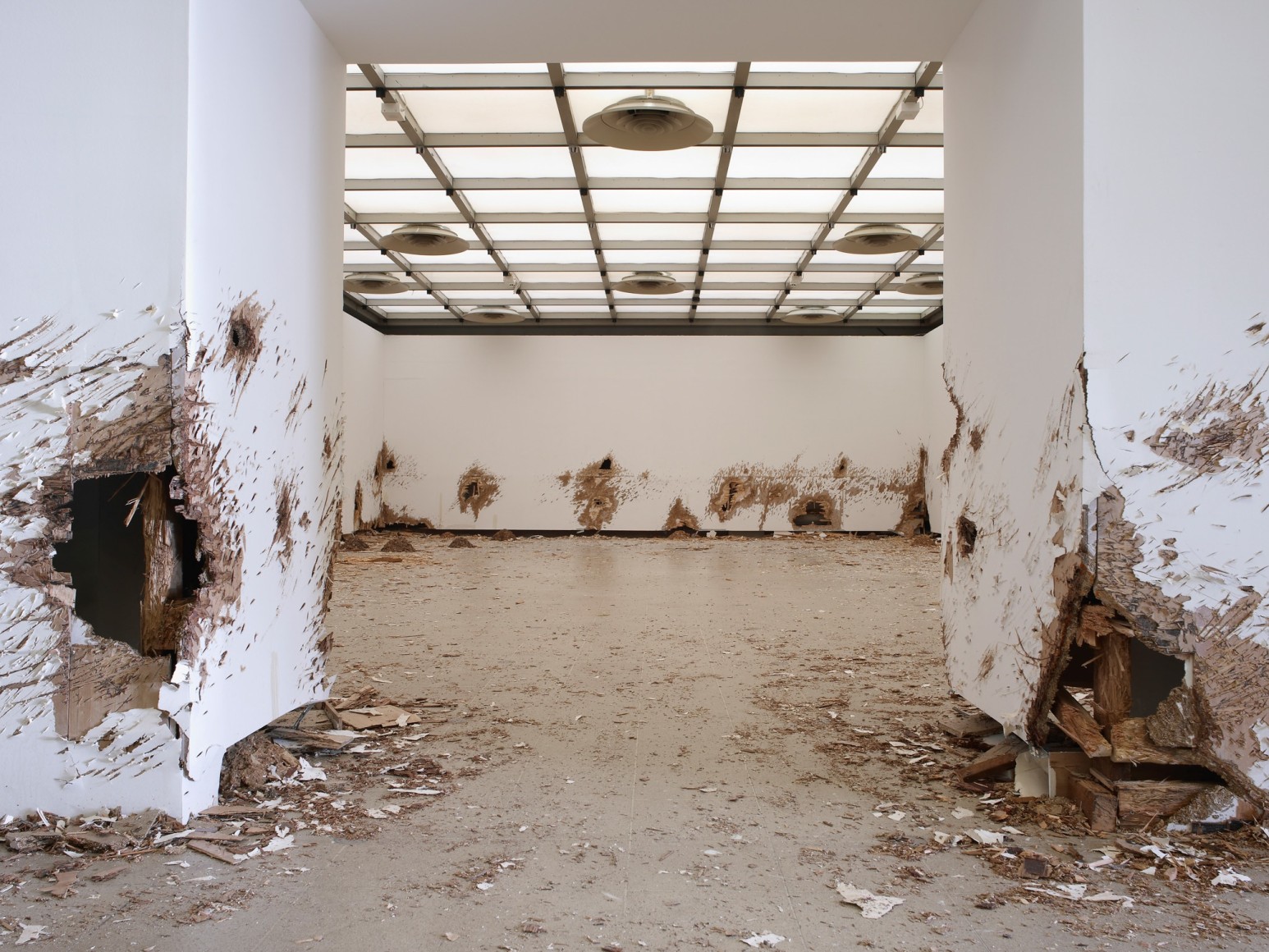 Mike Nelson
To the Memory of H.P. Lovecraft, 1999/2008
Installation view from Psycho Buildings: Artists Take on Architecture at The Hayward
The Hayward, London
May 28 - August 25, 2008
Photo: Stephen White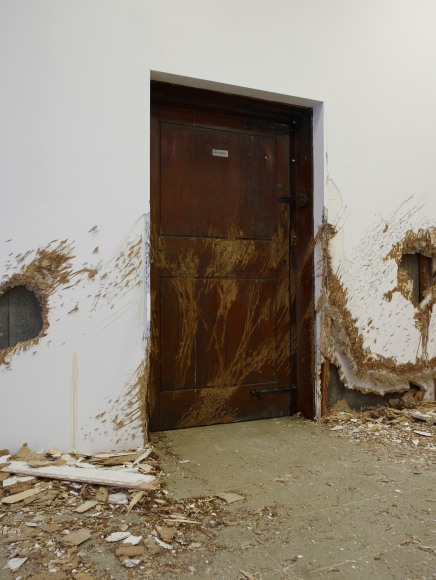 Mike Nelson
To the Memory of H.P. Lovecraft, 1999/2008
Installation view from Psycho Buildings: Artists Take on Architecture at The Hayward
The Hayward, London
May 28 - August 25, 2008
Photo: Stephen White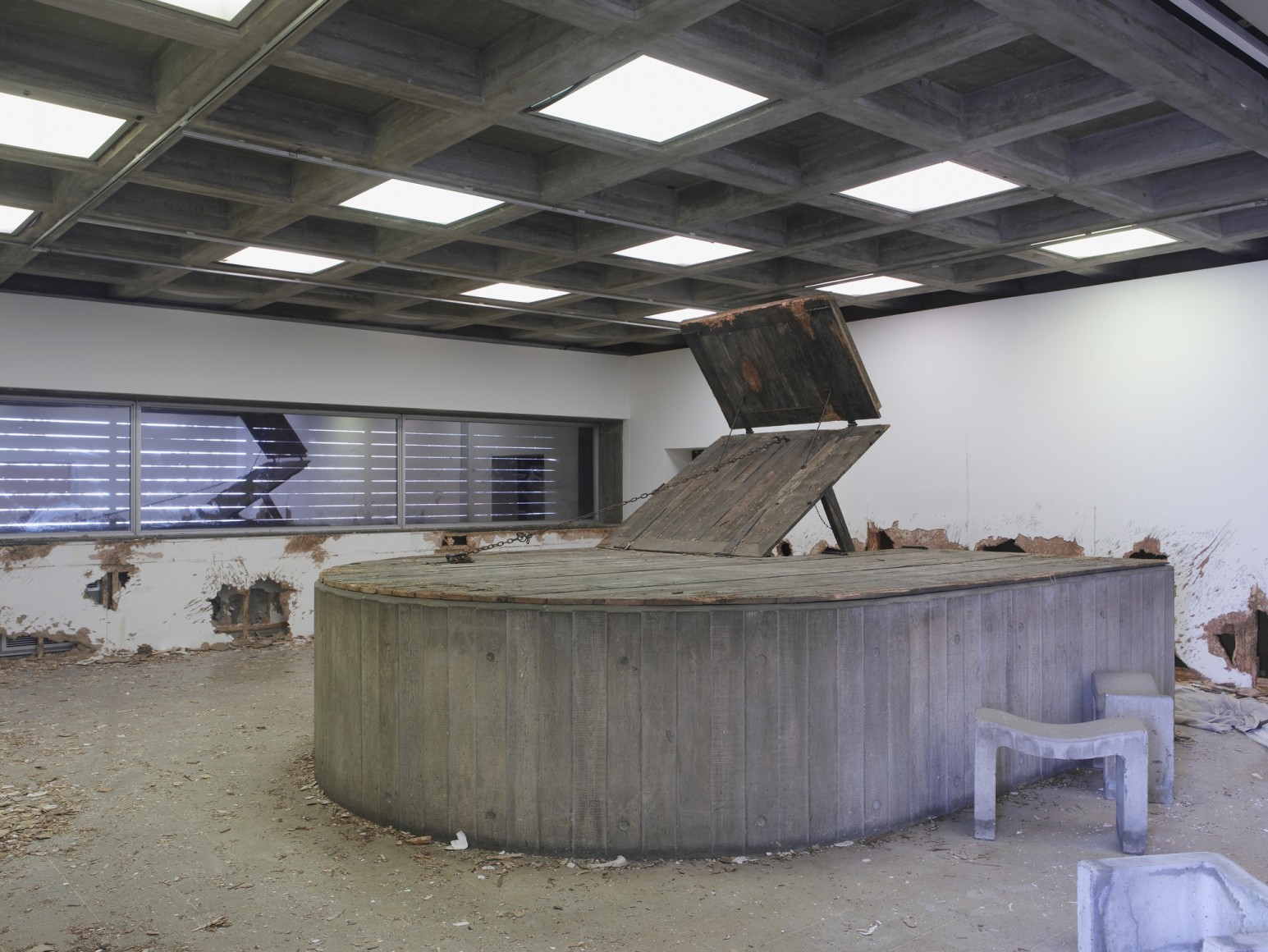 Mike Nelson
To the Memory of H.P. Lovecraft, 1999/2008
Installation view from Psycho Buildings: Artists Take on Architecture at The Hayward
The Hayward, London
May 28 - August 25, 2008
Photo: Stephen White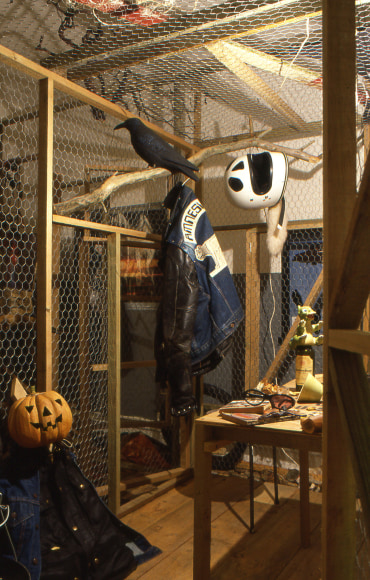 Mike Nelson
The Amnesiacs, 1997
Mixed media
Mike Nelson
Agent Dickson at the Red Star Hotel, 1995
Mixed media
111 3/4 x 111 3/4 inches (283.8 x 283.8 cm)
MN 8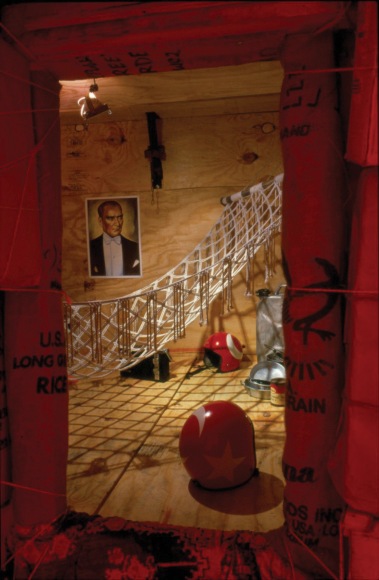 Mike Nelson
Agent Dickson at the Red Star Hotel, 1995
Mixed media
111 3/4 x 111 3/4 inches (283.8 x 283.8 cm)
MN 8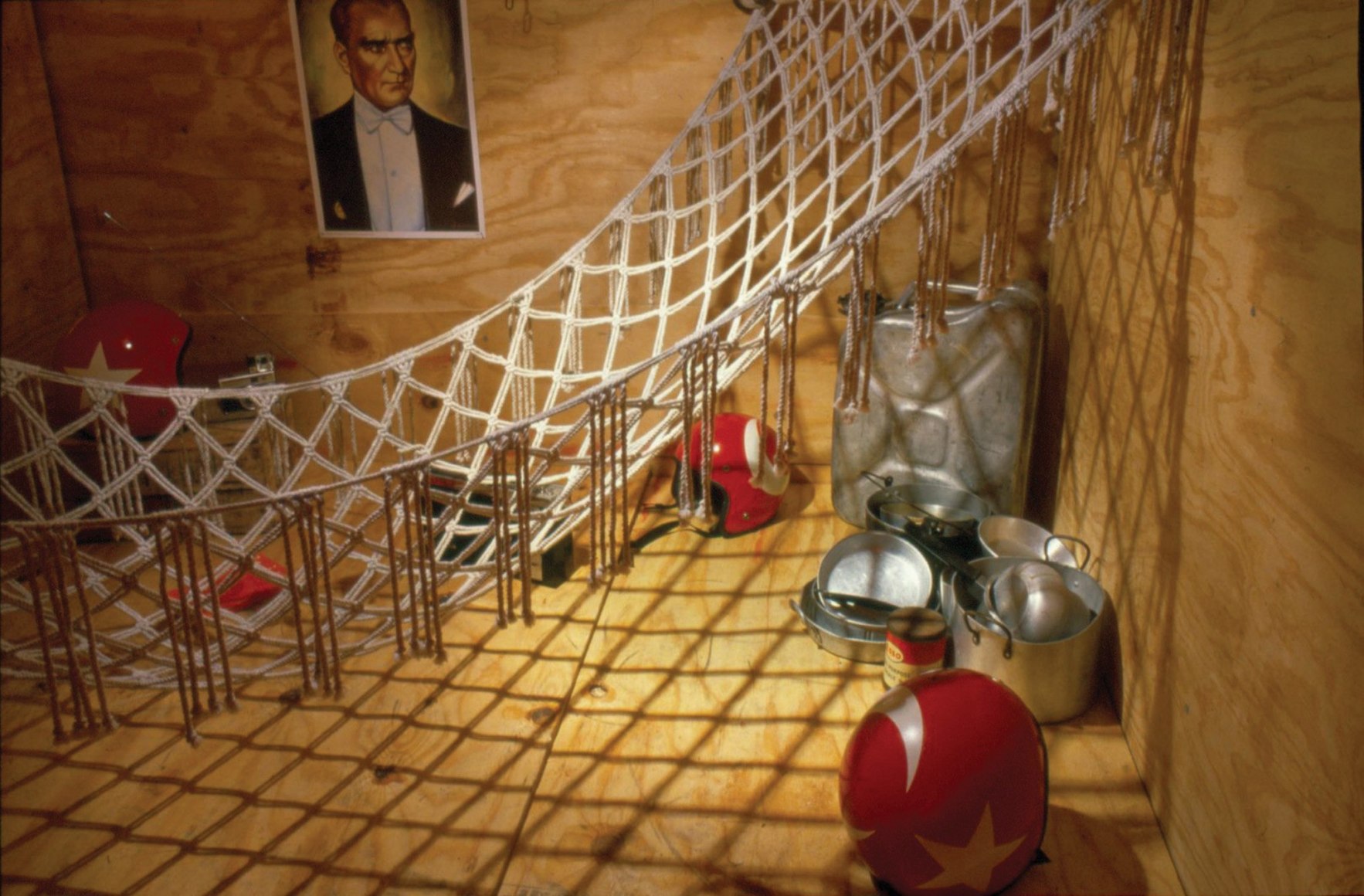 Mike Nelson
Agent Dickson at the Red Star Hotel, 1995
Mixed media
111 3/4 x 111 3/4 inches (283.8 x 283.8 cm)
MN 8